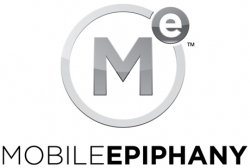 Aurora, CO, July 11, 2012 --(
PR.com
)-- Mobile Epiphany is proud to announce that Touch Mobile version 4.0 is now available. This release includes the much anticipated Android compatibility, which means that Android handhelds and tablets of all different shapes and sizes can work alongside Windows Mobile and Windows devices, sharing one business process and one workflow.
Companies that want to mobilize their business processes utilizing Mobile Epiphany software, can now choose from the many Android phones, tablets, and other handheld devices that are currently on the market. They can also potentially use Android devices that they already own for other purposes, greatly cutting down the upfront hardware cost of implementing their mobile business processes. There are currently over 300 million Android devices in use worldwide, and there are almost one million new devices being activated every day.
An iOS version of Touch Mobile is also currently under development for iPhones and iPads, and will be released in the fourth quarter of 2012, giving Mobile Epiphany users a single source for native applications across the three major tablet and mobile operating systems.
Touch Mobile 4.0 also includes various new features and performance enhancements such as completely redesigned art, new reporting options, and much more. For more information, please visit Mobile Epiphany's website at:
www.mobileepiphany.com
.
About Mobile Epiphany
Mobile Epiphany rapidly creates enterprise-class mobile solutions from its own unique platform that improve workflow and productivity across a wide variety of industries including healthcare, government, military, manufacturing, construction, public safety, utilities, and more. Mobile Epiphany's patent pending "Rapid Application Configuration" virtually eliminates the costly and risky software development lifecycle for a company's mobility projects.