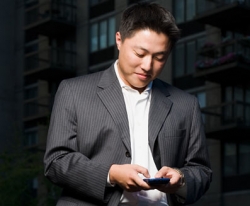 Berlin, Germany, June 21, 2007 --(
PR.com
)-- Many freelancers, smaller firms, and even medium-sized companies would like to enjoy the advantages of a BlackBerry® Enterprise Server, but do not have the resources to operate it themselves. As a solution to this, Cortado now offers a hosted solution enabling fast and easy access to the BlackBerry Enterprise Server.
The BlackBerry Enterprise Server can be activated for use with BlackBerry smartphones. In addition to the renowned BlackBerry push services for messages, applications, address book, calendar, tasks and memos, this new hosted BlackBerry Enterprise Server offering from Cortado also includes the Cortado Business Plus Exchange Email package with a 2GB mailbox, comprehensive virus protection and professional spam filter. Users are also able to continue using their existing email address, as with all Cortado mailbox packages.
The BlackBerry mailbox package from Cortado is available for 19.98 EUR per month and can be set up online at www.cortado.com/blackberry.
"With the hosted BlackBerry Enterprise Server from Cortado, we are expanding our offerings with a service that allows our customers to directly benefit from our know-how as a long-standing member of the BlackBerry® Alliance Program. Setup and configuration is straight forward and activation requires just a few easy steps," says Tobias Neumeyer, IT Director at Cortado.
In addition, the Cortado Premium Service, allows BlackBerry smartphone users to send emails and attachments via Bluetooth® to a printer, fax machine or laptop screen. Cortado Premium Services also provide templates for creating and sending faxes while on the move.
Cortado. A Division of ThinPrint
Cortado, as an independently acting division, combines the total mobile computing competence of ThinPrint GmbH and offers one-stop mobile business software solutions and professional hosting services for all of today's mobile demands.
The services on offer encompass the entire range from Hosted Exchange and professional e-mail and PIM services with innovative push mail capability to the truly unique Cortado Enterprise Solutions and Premium Services, which turn your mobile device into a fully-fledged workstation. Cortado products, both in-house solutions and hosted premium services, allow you to manage documents and flexibly send them to all established mobile platforms. Security-certified hosting centers in Germany, the USA, and the Pacific region guarantee high availability and security for all hosted Cortado services. Along with its free-of-charge services under Cortado Free, Cortado offers mobile freedom and increases productivity for consumers, prosumers, and companies. Their goal is to provide complete mobility and independence from location-bound workplaces and computer-based communication methods.
With the extensive experience of ThinPrint GmbH and its international presence with offices in the USA and Australia, Cortado operates globally. As a Microsoft Gold Certified Partner, Nokia Forum Pro member, and one of the top five BlackBerry Alliance Partners, as well as working closely with over 20 carriers worldwide, including T-Mobile, Vodafone, Telefonica, Orange, Hutchison 3G, Cingular and Verizon, Cortado is the competent and professional partner and service provider for meeting the demands of mobile business and private life. A global partner network supports the international availability of Cortado offerings.
ThinPrint press contact: ThinPrint GmbH, Silke Kluckert, Public Relations Manager,
Tel.: +49.30.39 49 31-66, Fax: +49.30.394931-99, E-Mail: press@thinprint.com, http://www.thinprint.de
The BlackBerry and RIM families of related marks, images and symbols are the exclusive properties and trademarks of Research In Motion Limited.
###