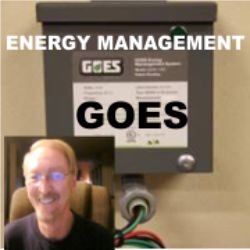 Fort Lauderdale, FL, July 26, 2012 --(
PR.com
)-- GOES is an internationally recognized leader in the green energy industry. GOES has worked with Fortune 100 and 500 companies, non-profits, and governmental agencies around the globe. Join the energy saving revolution that is sweeping the globe. The GEMS (Goes Energy Management System) for Residential, Commercial and Industrial Projects will save up to 57 percent on your energy costs and will eliminate down time on equipment.
Dustin Young and Darren Walker founded GOES in January 2011. Dustin and Darren have been great friends and colleagues since 2003 where they met while attending Bible College. Dustin Young who serves as the CEO of GOES has extensive knowledge in the Green Energy field and is considered a pioneer in the industry because of his years of experience and accomplishments. Dustin Young also currently serves as the President of GOES Energy, which was founded in 2007. It's at GOES Energy Dustin acquired great field knowledge of both Commercial and Residential GOES Energy Management System products. Over the last few years Dustin has also successfully filed patents on the GOES Energy Management System products.
Darren Walker is the Co-Founder and President of GOES and has a proven track record of personal financial success, which encompasses both the Insurance & Financial Services industry as well as his Real Estate Investment Company. Darren possesses an amazing ability to lead and inspire people to achieve their goals by focusing on their gifts and talents they already possess. Darren is a leader and motivator to GOES independent business owners- sharing the company's vision with them, as well as ways to improve their businesses and their lives. Darren communicates with independent business owners daily, encouraging them and helping them stay focused on their goals.
Together Dustin and Darren lead a crusade all over the world of increasing energy and financial efficiency one home and business at a time! At GOES they not only want to help save money on energy bills but their goal is to help change lives. They are able to change lives not only by saving their customers money so that they can allocate it to help a child fund a college education or help a company increase its bottom line, but they also help change lives through their independent distributors! GOES distributors have an opportunity to gain great product knowledge and sales strategies to communicate this amazing opportunity of energy savings and financial freedom with everyone they come into contact with. GOES distributors are the life line of this company and they could not have achieved the success they have this far without them. Visit their site and view the videos for their Residential products that will save energy and money. View videos on Commercial and Industrial applications, for saving time and money. View Testimonials on satisfied commercial and industrial customers that have installed the GEMS and with reduction of costs and increasing their bottom line with the energy cost savings.
The Goes Energy Management System (GEMS) has been installed in US Foods, Super Dome, City Water Plants, Apartment Complexes, Etc. Visit their site to view these and many many more satisfied customers that are saving a lot of money on their energy costs.
Intro To GOES Management System (GEMS)
Electrical machines must be supplied with energy in order to work. In the case of electric motors, more energy must be supplied than what actually required to turn the motor's shaft, since a certain amount of energy is required just to maintain the necessary magnetic field of the motor. This energy is known as reactive (or magnetizing) power. Utility companies will provide a limited amount of reactive power at no cost; however, customers with high reactive power loads are charges for the additional power. They call this additional charge a power factor penalty (demand charge or power factor surcharge).
What Is Power Factor?
Power factor (pf) is the ratio of the active (or useable) power measured in kilowatts (kw), to the total (active and reactive) power measured in kilovolts amperes (kVA), and is calculated as KW / kVA = pf, Power factor is commonly referred to in percent, with 100% being perfect power factor, also called unity. At unity power factor, the kVA = kW, therefore the utility company does not supply any reactive power.
What Is Power Factor Correction Equipment?
GEMS equipment provides the means of reducing the reactive power being supplied by the utility. Reducing the reactive power supplied by the utility results in a cost reduction to electric bills, since the kVA demand is also reduced. GEMS capacitors are the main component in GEMS equipment, with their size most often referred to in kVAr. You can see Diagram illustrates how a GEMS capacitor works on their site.
How It Works?
GEMS capacitors act as a "reactive power generator," providing the magnetizing power a motor requires to operate – rather than the motor having to draw it from the utility. Improving your power factor will reduce the amperage draw from the utility generator. The reduced amperage is a measurable value. (View more on their site)
Residential
Goes Energy Management System (GEMS) for the Home, Duplex, Tri-Plex, Apartment, Small Business will all save up to 57 percent on their electric bill. This unit is attached to the electric panel box inside or outside is approved.
Commercial & Industrial
Every commercial and Industrial customer has different needs. GOES will provide a custom audit for every commercial and industrial customer. GOES charges a one time sizing fee of $249.95 that is deducted from project price.
GOES LLC trained technicians will come to your facility and safely assess your company's electrical system and review your electric bill. Upon completion of their assessment, GOES will provide your custom cost savings report with their guaranteed savings and calculated ROI.
Residential Visit their site at www.YouSaveOnElectric.com
Commercial and Industrial at www.GoesOpportunity.com/SaveOnElectric