EARugby Euclide Avridor Celebrates the Launch of earugby.com
EARugby to Launch their Long Awaited Online Store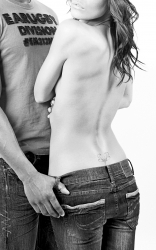 New York, NY, July 27, 2012 --(
PR.com
)-- EARugby (EE--AY Rugby) an apparel company that specializes in jeans and a wide range of clothing for men and women, today announced the launch of their online store EARugby.com.
They celebrated this event with an exclusive party at YOTEL in New York City, with some of the most popular figures in the fashion industry in attendance.
A spokesperson for EARugby comments: "Our launch party was a great experience for all invited; guests had the opportunity to experience firsthand, the EARugby spirit; an unconventional clothing line that accentuates a rough, bold yet sexy lifestyle... where rugged meets luxe."
As well as enjoying a look at the new collection, guests at the party indulged in cocktails and champagne.
"Of course, for us, the highlight of the evening was the unveiling of some of the key pieces from our Summer 2012 Collection, and from the glowing reception we received, we are confident that our current line will live up to our fans great expectations."
About EARugby
EARugby is a high-end quality apparel company, founded in 2003, that produces jeans and a wide range of clothing for men and women; that projects a bold and defiant stance for self expression and individuality.
EARugby applies the highest standards of workmanship in every aspect of every garment including the textiles, the stitching and the fit.
Euclide Avridor is the creative mind behind the brand with years of experience working for some of the most renowned apparel companies, including Calvin Klein Jeans, Nautica, The Nat Nast Company, Victoria's Secret and Warnaco.
Euclide Avridor, President and Designer, Comments: "I am already looking forward to our next launch, and hope the event will further cement EARugby's position as an unconventional brand and our overall vision and philosophy."
Contacts
Mayer Morissette, (866) 456-7968
Brand Communications Specialist
mmorissette@earugby.com
Contact
EARugby Euclide Avridor
Mayer Morissette
866-456-7968
www.earugby.com

Contact