Public Shore Films Announces Completion of Production on American Mongrel, Post-Production to Begin in San Francisco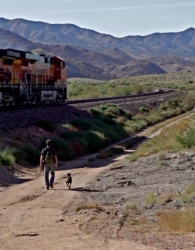 San Francisco, CA, August 02, 2012 --(
PR.com
)-- What would inspire three strangers to take a road trip into the Northwest of America to redefine the American Dream?
San Francisco based filmmakers Deniz Demirer and Daniel da Silva set out on the road with American Mongrel to find out. The answer points to the 100+ hours of footage the skeleton cast and crew compiled while traveling for two months and over 15,000 miles.
American Mongrel ranges as wide as the American West, following the ad hoc journey of a group of escapees from a life that has cornered them. Set against the autumn of 2011 when whispers of revolution began with shouts of "Occupy!" the story focuses on the personal struggles of three strangers whose paths inevitably intersect. The story moves from the clutter and confusion of the city to realization and liberation in the western landscape. Theirs is a physical departure, but it is also departure that forces Marcos, Johnny and Janice from the secure ritual of habit through the un-promised terrain of acceptance, love, strife and the grip of the past. Starring Daniel da Silva as Marcos; Kris Caltagirone as Johnny; Helene Hebert as Janice and featuring David Lee Jensen (Appaloosa) as Blaze Livingston.
While approximating the aesthetic of a documentary, the film is fictional. Director Deniz Demirer chose this style because of his belief in the visceral power of Verite Cinema and the aesthetic's reflection of his filmmaking process. With a non-existent budget save two credit cards, the filmmakers relied on the relationships they built with locals and the goodwill of complete strangers. Those who were willing to share their stories and interpretations of the American Dream were interviewed for a supplemental documentary that will go along with the narrative.
With production finished, Demirer and da Silva are launching a campaign on Kickstarter to fund post-production. Kickstarter is a crowd sourcing platform where artists, educators and innovators can pitch their project to the world and offer incentives in return for funding.
Public Shore Films wants to explore the depth of human character in a way that enlivens the mysteries of the spirit of viewer and creator alike. In a most humble way they would like to create an alternative to both Hollywood and to what "Independent Film" has become -- formulaic, predictable, and false. They are determined, without bloated pretense or ambition, to create a memorable cinematic experience that may (ever-so-slightly) detoxify the current barrage of bottom-line studio films and fake "indies" that manipulate us to feel rather than embolden us to experience the contradictions and mysteries of our existence.
With three more features written and awaiting pre-production, American Mongrel is the first feature film from the Public Shore Films stable.
(For more information about American Mongrel, visit www.american-mongrel.com. For additional comments or to arrange an interview with Deniz Demirer or Daniel da Silva, call 510.825.6101 or email info@american-mongrel.com)
Contact
Public Shore Films
Daniel da Silva
(510)825-6101
publicshore.com
www.american-mongrel.com

Contact