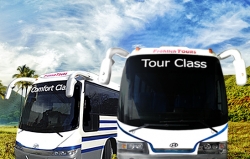 Paranaque, Philippines, August 07, 2012 --(
PR.com
)-- Viaexpress Inc. announced today a partnership with Froehlich Tours Inc. to offer through all its branches and affiliates a wide range of transportation services that could fill in clients needs from Company Shuttle Services, City Tour / Transfer, School Field trips, Company Outings, Airport Transfers to our Package Tours. The new cooperation also offers Rent-A-Bus Services and Tourist Bus Charter. Froehlich Tours Inc. Managing Director, Ms. Janica Dumadag, welcomed this partnership as a paramount milestone for a nationwide coverage of Froehlich Tours Services through Viaexpress. In the near future the livery of the Froehlich Tours fleet will also carry the Viaexpress logo in addition, to create a brand recognition for this new sealed cooperation. All in all Froehlich Tours Inc. is more than delighted to sign this agreement with Viaexpress, a company who provide and deliver excellent and reliable services to clients. The new formed corporation will give access to 68 Viaexpress branches nationwide in where Froehlich Tours will offer charter services as well as domestic and international tour packages as addition to the existing Viaexpress service portfolio.
Froehlich Tours is a corporation formed in 2012 to provide high performance services to the Philippine tourist industry. The company is managed and operated by a German / Filipino executive team with more than 15 years experiences in European inbound tourist operation (previous operations for companies like Kuoni, JAL Express, Trafalgar, JTB and CITS) as well as operation of charter bus services all around Europe. An extensive knowledge of the senior management team in regards International Airline and Hotel / Hospitality Industry allow Froehlich Tours to cater the individual needs of clients in the private sector as well as in the corporate sector.
Viaexpress Inc. formerly known as Powercom Enterprises (a sole proprietor) in the Philippines and still operating for the past 12 years.
Powercom Enterprises started as an authorized dealer/distributor and reseller of computers, cellular phones, pagers, two-way radios and accessories.
The company was one of the authorized dealer/ agent of Piltel- Mobiline, Extelcom, Islacom, Smart Communication, and Easycall & Globe Telecoms.
In order to meet the needs of customers/clients, Powercom Enterprises offers more services, including Money Remittance (Smart Padala & Gcash), E-loading, Electronic Gadgets Pawnshop, Airline booking & ticketing, Digital printing, Mobile phone and Computer Repair Tutorial, Distributor of repairing tools flasher for Nokia phones, Motorola, Ericsson and other brand of cellular phones.
As time goes, the company conceptualized Viaexpress Inc., In August 2011, legally recognized as Corporation and duly registered to Security and Exchange Commission (SEC) and The Bangko Sentral ng Pilipinas (BSP).