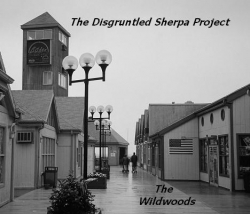 Philadelphia, PA, June 26, 2007 --(
PR.com
)-- The Disgruntled Sherpa Project's sixth album, The Wildwoods, is a bit of a departure for the band. The disc, which will be released on Tuesday June 26th, does not delve into many genres like past releases, this time out its rock, followed by more rock, and followed by even more rock.
Indeed the shimmering mandolins, acoustic guitars and dulcimers of their previous release Old Hat in 2006, have given way to heavy electric guitars and doomed laden organ. "We don't have any mandolins this time," guitarist Joe Boylan confirms, "But there's a lot more piano/keyboard on this one and even some steel drums. It's different too because there's a lot more percussion and a lot more bass which drives a lot of the songs on this disc which wasn't necessarily the case before."
The second song on the disc and its first single is entitled "New Jersey Avenue". The track lightens the mood a bit after the darkness of the opener, but just a bit. "It's a little story of a weekend at the Jersey Shore in Wildwood," Boylan explains. "And like every weekend in Wildwood, it starts with a brutal beating."
The CD opens with an ominous introduction to a song dripping with bitter despair called "Not an Exit" which guitarist/multi-instrumentalist Dan Perry describes as his favorite track on the album. "There's a very dark sound to it and it is full of different dynamics that come together great. Lyrically the song references Judas Iscariot, Midnight Express and the frog and the scorpion fable to drive home images of betrayal, acceptance and ultimately – if not reluctantly - forgiveness."
Visitors to Wildwood will note the references to 20 dollar round trip cab fares, Mr. D's Cheese steaks, the giant Ferris wheel on the boardwalk and the legendary Mary Anne Motel. "That song makes the whole project worthwhile," says Bassist Walt Mamaluy while drummer Wayne Lee is impressed with the tempo of the tune describing it as, "adrenaline in a bottle." Perry believes the song works on many levels especially for those with a background similar to the Philadelphia-based band adding, "It's a fast paced, catchy song with a very cool acoustic interlude in the middle. And what Philly kid didn't visit the Wildwood shore growing up?"
The CD encapsulates a more streamlined, focus on rock n roll according to bassist Walt Mamaluy. However, one particular track, "Spring Break: Central America", veers slightly away from rock to a more Caribbean flavor. The tune, co-written by Mamaluy and Boylan which features a pulsing bass driven beat, exotic polyrhythmic percussion and some politically tinged lyrics concerning Spring Break in a worn torn Latin American nation during the Reagan years. "It makes me think of frozen drinks, and the impoverished state of the country surrounding those frozen drinks," Mamaluy glibly describes it.
New Local Collaborations
The band reaped many benefits from collaborating with producer/engineer David Reilly at the Music Box Production Studios in Delaware County, Pennsylvania. "Dave was great at capturing the sound we were looking for," says Boylan. "He also came up with some great ideas and was able to take ideas of ours and apply them to the songs, such as the steel drums in 'Spring Break' and the church organ in 'Nor'easter'."
Perry concurs adding, "He improved upon our past albums sound wise especially on the drums and vocals." As a result of going to an outside studio Perry notes the band was forced to work up material before recording, another departure for them, "much of the previous albums were written during the recording where most of these songs were worked up before recording."
Wayne Lee notes that this arrangement leant itself to more collaboration within the band itself. "We definitely collaborated a lot more this time than in the past. Everyone in the band wrote at least one song on this disc."
Another collaborator on this release is Lauren MacKal, lead vocalist from heavy metal band Down Hollow, who is featured on three of the disc's nine tracks. "Lauren did a great job," Boylan says. "Not just was her performance great but she kind of opened our eyes to what the songs need as far as vocals go. We never really worked with a legitimate lead singer before and it was a revelation to say the least."
MacKal can be heard on "Suffer in Silence", "Afraid of Me" and "The Beautiful Losers" the latter of which is a song that has been around the band for a while. "The music I wrote over 10 years ago that somehow surfaced again when Joe put different lyrics to it," Perry says.
The Wildwoods will be released on June 26th. For more info visit The Disgruntled Sherpa Project's website at www.disgruntledsherpa.50megs.com for tour dates and booking information.
###