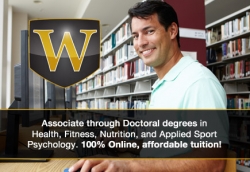 Rancho Santa Margarita, CA, September 08, 2012 --(
PR.com
)-- Tom DeLong, 35-year strength and conditioning industry veteran with a background in competitive powerlifting and weightlifting, was recently hired as professor for Wexford University. Wexford is a 100 percent online university that offers associates through doctoral degrees in health, sports, exercise and nutrition.
A certified biomechanics specialist, DeLong will serve as curriculum/content developer and professor at Wexford University as well as adjunct instructor at the United States Sports Academy, teaching biomechanics in Malaysia and Thailand. For the past 11 years, he has taught kinesiology and biomechanics, exercise physiology and resistance training courses through UCLA Extension. DeLong has a bachelor's degree in Exercise Science and Wellness from Ball State University in Indiana as well as a master's degree in Kinesiology from California State University at Long Beach.
"With his incredible background in coaching, teaching, strength training and researching, Tom was the absolutely perfect person for this position, and we are really happy to have his expertise on our staff," said John Spencer Ellis, founder of the National Exercise & Sports Trainers Association (NESTA), which includes Wexford University as its higher education division. "Wexford serves a variety of international students, so we're also pleased to have Tom's experience in working with students from around the world."
In addition, DeLong has served as strength and conditioning coach at Ball State, Wayne High School in Indiana, the University of Guam, California Lutheran University and the U.S. Navy's Naval Special Warfare Group 4. Likewise, he previously ran a private strength and conditioning facility specific to athletic development and biomechanical analysis of movement. He currently develops curriculum for both NESTA (National Exercise & Sports Trainers Association) and MMACA (Mixed Martial Arts Conditioning Association). He recently completed a one-year tour at the National Strength and Conditioning Association World Headquarters as the curriculum development manager and intern development instructor.
DeLong was a competitive powerlifter for 30 years for the United States Powerlifting Federation, USA Powerlifting and the Guam National Weightlifting Team, and is currently working on a biomechanics textbook on resistance training exercise.
Wexford University offers degree programs including an associate of arts degree in Fitness Training, a bachelor of science degree in Health and Fitness, a master of science degree in Nutrition and Exercise, a master of arts in Applied Sports Psychology and a doctorate degree in Applied Sports Psychology.
About Wexford University
Wexford University is dedicated to providing world-class education through cutting-edge technology, offering direct application degree programs in an accelerated format with 100 percent online learning to save time and money. Programs include an associate of arts degree in Fitness Training, bachelor's degree in Health and Fitness, master's degree in Nutrition and Exercise as well as master's degree and doctorate degree in Applied Sport Psychology. Wexford University is the higher education division of NESTA (National Exercise & Sports Trainers Association). For more information, please visit
http://wexford.edu/
.