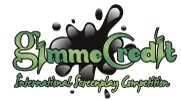 Los Angeles, CA, August 22, 2012 --(
PR.com
)-- The Gimme Credit International Screenplay Competition, in existence since 2006, is in the midst of their 11th cycle and has an open call for entries. Short and feature scripts accepted. Gimme Credit strives to discover and develop talented writers while offering superior transparency regarding the competition. Complimentary feedback is given to every single entrant.
The Gimme Credit International Screenplay Competition proudly announces the Cycle X Winners. Scripts of varied genres won placements, all with the common thread of superior writing, concepts and character development.
The competition attracts talented screenwriters from around the globe during its yearlong call for entries. Four winners are chosen in each of the three categories: Features, Shorts and Super Shorts. The winning features have been perfected with months of development as have their selling materials, including their loglines and synopses. In their subsequent submissions to agents, managers and production companies, as per the prizes outlined, the scripts have already garnered several reads.
Gimme Credit is sponsored in part by Scrivener, Scripped, Script Pipeline, Great Dialogue Software, Venice Arts and The Business of Show Institute. Find out more about the competition at
www.gimmecreditcompetition.com
.
Further information about any of the writers or scripts listed below may be requested at submissions@gimmecreditcompetition.com. All are currently available for option and production.
Features:
1st Place
Showered by Neil Riley
(Comedy)
On the biggest day of his career, an insensitive marketing exec is imprisoned in the shower by his wife, equipped only with a dying cell phone.
2nd Place
Cypress Gardens by Donna Musil
(Drama)
An ambitious young lawyer embroiled in a bitter anti-union campaign struggles with her principles when challenged by her pro-union, working-class sister.
3rd Place
SWAP by Sean Ryan
(Science Fiction)
A police detective uncovers a secret government technology that could unravel the very fabric of nature and destabilize the world.
Artistic Vision
WarWolf by John W. Ashbrook
(Action Adventure, Science Fiction)
During the London Blitz, a nervous factory-girl is drawn into an ancient battle between Celtic Wolf Skinners and Wolf Men, which threatens her family and the entire course of WWII.
Shorts:
1st Place
The Punishing Business by Sarah Skibinski
(15 pages, Dramedy)
When a developmentally disabled woman inexplicably tries to stop new tenant Ellen from going about her day, a bizarre series of events unfolds, resulting in the unlikeliest of friendships.
2nd Place
Burn the Day by Francis Chase
(30 pages, Drama)
A desert rendezvous turns deadly for a man on the heels of a kidnapper.
3rd Place
The Post Office by Richard Hobley
(12 pages, Drama)
Working in a post office in purgatory, sorting out wishes and prayers, Izzy falls in love with a desperate and lonely guy back on earth.
Artistic Vision
Into the Dark by Lukas Hassel
(15 pages, Science Fiction)
Somewhere, sometime, someone lives a life you'll never know anything about.
Super Shorts:
1st Place
Nutz! by Basil Sunshine
(4 pages, Animated/Comedy)
Benny the squirrel, toiling at his job in the nut factory, fondly remembers when nuts came from trees.
2nd Place
So Awkward by Matthew Stevens
(5 pages, Comedy)
The best laid plans of family night go awkwardly astray when the movie turns "intimate."
3rd Place
Fizzleworks by Mike Grimm
(5 pages, Animated/Family)
Fizzle the Firework will stop at nothing to be a part of the Fourth of July finale. Problem is, he can't fly.
Artistic Vision
S&M in Space by J.J. Hillard
(5 pages, Science Fiction/Comedy)
A disengaged spacecraft pilot, unsuccessful in a routine docking with a supply ship, gives over control to his frustrated copilot wife who helps him regain his essential coupling skills.
The Gimme Credit International Screenplay Competition's late deadline is on Tuesday, September 4 and the final deadline is Monday, October 29. Winners are announced Sunday, November 18, 2012.