Topex to Launch New Version of Bytton Router
New version of Topex Bytton router is released.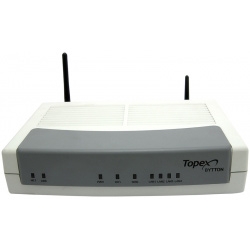 Bucharest, Romania, June 29, 2007 --(
PR.com
)-- Topex is proud to introduce a new version of Bytton wireless router incorporating innovative features such as the Dual SIM technology which permits the unit to automatically switch networks in the event of one network failure, IPSec VPN, L2TP, PPTP tunnels over the internet with complete security.
The router acts as a voice cost optimizer tool for fixed to mobile calls with Least Cost Routing capability.
The unit allows PoE deployment targeting markets like the security and surveillance sector with mission critical applications.
The new Bytton HSDPA Router with download speeds of up 3.6Mb/s provides users with fast mobile access using the latest HSDPA technologies.
The Bytton router is a 3G cellular router that provides high speed wireless connectivity for primary wireless broadband network connectivity to equipment at remote locations, as well as for a backup to existing landline communications. Applications include SOHO, POS/retail, banking (ATMs), video surveillance and more.
They recall here the fact that Topex was the first to launch on the international market the following equipment:
- The first WiFi HSDPA Router, CeBIT Hanovra 2006
- The world's first module embedded UMTS Fixed-Mobile Terminal, CeBIT Hanovra 2005
- The first EVDO interface (Bytton), Tampere 2004, Finlanda
To learn more about our products, please visit:
www.topex.ro
About Topex:
Topex is among the most innovative, fast growing European manufacturers of telecommunication equipment, providing a wide range of telecommunication applications. The company has over 16 years of experience in research, development and manufacture of both civil and military telecommunication devices.
Topex's leveraged expertise includes: Next Generation Network solutions Softswitch, Media Gateways for TDM, VoIP, GSM and CDMA (2G,3G), Signaling Gateways (SS7, ISDN, R2, SIP, H323), Broadband Wi-Fi Mobile Routers, Fixed-Mobile Terminals (2G, 3G) and ATC Voice Communication Systems.
Florentina Stoica
PR Manager
Phone: +40-21/4083900;
Fax: +40-21/4083909
###
Contact
Topex
Florentina Stoica
0040214083900
www.topex.ro

Contact