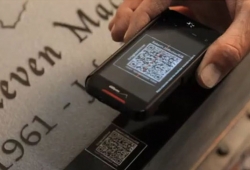 Pipersville, PA, September 09, 2012 --(
PR.com
)-- Have you ever walked through a cemetery and wondered about the lives of the people buried there?
So have Rick and Lorie Miller, and after losing some very dear family members in the recent years, including Lorie's younger brother Charlie and her Grandparents. They wanted to find a way to celebrate the lives of those very special people.
One day driving home from a country fair, Rick said, "Let's offer a service that attaches QR Codes (quick response codes) to headstones, that will link to a memorial website that is personalized for your loved ones."
Digital Legacys LLC., was created so anyone can have a personalized memorial website to share their loved ones life stories, pictures and music. Family and friends can leave comments or share a story. They have placed social networking buttons on their site so you can easily share or email your memorial page with others.
Rick says "This technology is very easy to use with any Smart Phone or an iPad, you just have to download a Free APP (available on their site)and you can easily scan the QR Tag on any Headstone, Grave Marker, living memorial, bench, etc. and you will be redirected to their personalized memorial webpage."
"We have taken this service a step further," Ms. Miller said, "because our Family Pets are so important to us we also offer this service to all pet owners."
Their Company offers a yearly or lifetime webpage service with a laser etched QR Tag (with permanent adhesive tape) that you mount to your new or existing memorial. Or you can choose to have just a memorial webpage. their services start at $50.00.
"We understand that this can be an emotional process, says Lorie. To make it easier, you just give us your information, photos, etc. and we do all the work." And for those of you, who are not tech savvy, you can mail all your information including pictures to Digital Legacy's and they will scan and use them to build your memorial webpage.
www.digitallegacys.com