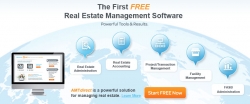 Charlotte, NC, September 26, 2012 --(
PR.com
)-- AMTdirect, the leading software provider to the commercial real estate industry, now provides companies a robust, full featured solution to manage their corporate real estate assets at no cost. Companies of all sizes can use this real estate management software and begin to create smart strategies that shift focus from day to day contract management to actual business growth.
Key Features of AMTdirect include:
Real Estate Administration: Comprehensive property and lease administration software that turns the power of real time information into a competitive advantage.
Real Estate Accounting: Provides a time saving way around traditional data gathering and organizing allowing users to integrate their real estate and proactively manage it effectively.
FASB Administration: Creates an enhanced database with reporting tools that support FASB standards, ensuring that companies capture and use data needed for compliance.
Project Management: A simplified and easy-to-use management tool aimed to streamline project cost, deadlines and day to day duties.
Facility Management: Allows companies to monitor, analyze and maintain their facilities from one centralized location.
"We have 'freed the software' by making our proven solution available for no charge and without any of the hassles of a software sales and evaluation process. Once we prove our value and earn our customer's trust we hope that many of them will then buy additional solutions from us in the form of low-monthly-cost add-on capabilities. However, we are delivering a complete solution, for an unlimited number of properties, for absolutely no charge," says AMTdirect CEO Scott Schubert.
Please visit the AMTdirect website (http://www.amtdirect.com) to learn more about why companies like Lowes, Enterprise Rent-A-Car, and Barnes & Noble use this industry leading software for their real estate management.
About AMTdirect
Since 1996, AMTdirect's sole mission has been to develop great real estate management software, make it simple, cost effective and accessible to everyone in the world. By continuing to perfect software since day one, AMTdirect has created an industry leading solution that gives companies full access to their real estate portfolio in one central Cloud system. Clients include leading companies in the retail, healthcare, higher education, financial and real estate management industries.