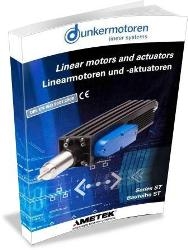 Elgin, IL, October 02, 2012 --(
PR.com
)-- Dunkermotor, now part of AMETEK Precision Motion Control, has released its first ServoTube linear motors and actuators catalog with technical specifications and drawings that cover 1,346 standard product configurations of tubular linear motors, actuators, modules, components and gantries.
With their high speed, acceleration and precision, coupled with very low noise, easy installation and no maintenance design, ServoTubes have wide application in packaging, automation and specialty machinery applications. The stainless steel washdown models are designed for use in food processing, pharmaceutical and medical applications.
Comprised of just two parts, a rod and a forcer, the ServoTube linear motor is inherently simple and elegant. The stainless steel rod is filled with rare-earth magnets and the forcer incorporates a series of coils energized as three-phase windings. The forcer coil magnetic field interacts with the rod magnetic field, generating linear force.
In the unique ServoTube design, the magnetic forces are balanced, and motion is smooth and cogging-free as opposed to flat-bed linear motors. The innovative ServoTube forcer coils optimize use of the magnetic field and feature a built-in heat sink that offers improved thermal efficiency over conventional U-channel linear motors.
The Dunkermotor linear product line is based on three shaft diameters: 11, 25 and 38 mm (0.433, 0.984 and 1.496 in.) The compact ServoTube motors offer peak force up to 1860 N (418 lbs.), with continuous force to 293 N (65.8 lbs.) A water-cooled option on the stainless steel hygienic washdown version increases continuous force to 498 N (111.9 lbs.) Maximum speed is 9.3 m/s (366 in./sec.) with acceleration up to 586 m/s2 (59.75 g). Stroke lengths range from 14 to 1751 mm (0.55 to 68.93 in.)
The speed and dynamic response of the ServoTube offers significantly increased throughput over ballscrew drives and the food-safe internal dry bearings built into the tubular actuators have a rated lifetime ten times that of a ballscrew. The non-contact construction of the ServoTube is maintenance-free and disperses no lubricants. Its direct drive simplicity eliminates couplings, belts, pulleys and gearboxes; thereby minimizing machine footprint, eliminating downtime and reducing cost of ownership.
In addition to a convenient Selection Guide, the new 24-page catalog features:
• ServoTube Moving-Rod Linear Motor Actuators with standard integrated positioning sensors for ±12 micron repeatability and ±350 micron absolute accuracy for motion control and simple drop-in pneumatic cylinder replacement
• High Rigidity Moving-Rod ServoTube Actuators for applications subject to lateral loading
• Hygienic Washdown ServoTube Stainless Steel Actuators with severe duty IP69K protection and optional water-cooling for doubled actuator force in the same space
• Compact ThrustTube Actuators for use with external encoders for micron and sub-micron positioning accuracy with no cogging
• Integrated ServoTube Moving-Forcer Modules with optional high resolution encoders, bearing rail, limit switches and/or protective bellows for easy "drop in" installation
• ServoTube Gantry Systems for multi-axis positioning to reduce automation project risk through single source calibrated systems with predictable, proven performance
"Traditional linear motors require a costly linear encoder, necessitating careful alignment during installation. With the ServoTube linear motor's sinusoidal magnetic field design, Hall sensors in the forcer can provide position information with repeatability of 12 microns, thereby eliminating the need for a linear encoder," notes Will Vinson, Dunkermotoren USA president.
"Compared to other tubular linear motors, the ServoTube is unique in that it develops a very constant force, which provides a number of benefits in terms of the quality of motion as well as an ease in tuning, all while not requiring proprietary drive electronics."
The new Dunkermotor Linear Motors and Actuators Catalog can be downloaded from the company's website with the shortlink
http://bit.ly/LinearCatalog
. Hard copies are available by emailing a request with name, company and address to info@dunkermotor.com.
About Dunkermotor:
Dunkermotor is the North American go-to-market name for Dunkermotoren GmbH, now part of AMETEK Precision Motion Control. Recognized since 1950 as the global quality and value leader in customized, configurable sole-source fractional horsepower motion control solutions, Dunkermotoren's product line consists of linear motors and rotary BLDC, PMDC and AC electric motors, gearmotors, controls, encoders and brakes.
Dunkermotoren produced over 3.4 million motors in 2011 for the factory and commercial automation, medical, packaging, specialty machinery, semiconductor, solar power and mass transportation industries. It was acquired in May 2012 by AMETEK, Inc., a leading global manufacturer of electronic instruments and electromechanical products with annual sales of more than $3.0 billion.
Dunkermotoren is now part of AMETEK Precision Motion Control, a division of AMETEK's Electromechanical Group. Other AMETEK Precision Motion Control brands include HAYDON KERK linear actuators, rails, guides & splines, drives, motors; NAUTILAIR variable-speed brushless DC combustion blowers; PITTMAN® brush and brushless motors, gearboxes, encoders, drives, brakes; ROTRON® regenerative blowers, transportation blowers, motors, fans, pumps; and WINDJAMMER® variable-speed brushless DC blowers.