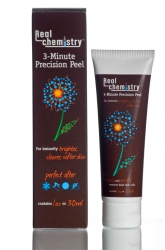 Nashville, TN, October 12, 2012 --(
PR.com
)-- BluDahlia LLC a new, American skin-care company released its premier new product today: The Real Chemistry™ 3 Minute Precision Peel. Real Chemistry™ products are available for purchase at www.myrealchemistry.com and at various retail stores including" The Cosmetic Market" locations in Nashville, TN and in Chattanooga, TN as well as "The SkinBar" in Brentwood, TN. "The Cosmetic Market" at Hill Center in the Green Hills area of Nashville, TN will host a special event Saturday, October 13, 2012 from 10AM-6PM. Member of the press are invited to visit the store Friday, October 12, 2012 from 10AM-Noon.
The Real Chemistry™ 3 Minute Precision Peel has an extraordinary, visible effect on the skin; the peel quickly binds with dead epidermal cells on the surface of the skin which ball up under your fingers and fall away as the peel is activated. This uniquely tactile, visible experience results in an instantly brighter, more radiant complexion. Real Chemistry™ proudly manufactures its products in the USA and all its products are engineered using the world's finest pharmaceutical grade ingredients.
BluDahlia LLC, based in Nashville, TN produces skin care products for value-oriented consumers who are motivated to achieve professional results at home without the expense or inconvenience of visiting a spa or physician office. For further informaion, please visit
www.myrealchemistry.com
or contact BluDahlia directly at info@bludahlia.com.