Have Real Experiences - Be an Authentic Luxury Traveler: New Website Guides Travelers Off the Beaten Path
On the website "Authentic Luxury Travel," award-winning writer Elizabeth Hansen helps affluent travelers find real experiences and avoid the well worn trail of tourist sites.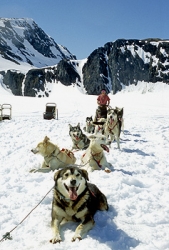 Girdwood, AK, October 24, 2012 --(
PR.com
)-- "The sound of whirling helicopter blades startled the dogs and their barking filled the air as we landed on the snow-covered mountain. At first, the glare was blinding, but soon I was able to take in the all-white alpine panorama dotted with 48 dome kennels.
"Dario, the musher, greeted my husband and me and led us to a sled where a team of Alaskan huskies was yapping and rearing to go. In no time, we were flying across Punchbowl Glacier on top of 1,000 feet of ice and 100 feet of snow. Seated in front, I was sprayed with snow kicked up by the racing dogs. It was an exhilarating - almost magical – experience and one we would have missed if we hadn't been traveling independently.
"When we planned our trip to Alaska, I was told we'd be too early for dog sledding, but there were other factors to consider, and I had no choice but to accept that disappointment. Or so I thought, until our waitress at dinner in Girdwood overheard my lament and shared the news that Dario had just arrived and was setting up his summer camp on the glacier. A few phone calls later, we'd made arrangements to stay an extra day and be the first guests of the season.
"When I tell people I write about
Authentic Luxury Travel
, they envision five-star hotels, gourmet meals, and indulgent spa treatments – which are often part of the story – but the real luxury is traveling on a customized itinerary that allows for spontaneous detours. If we had been on a shore excursion from one of the many cruise ships that visit Alaska every summer, we never would have had that memorable experience, and we wouldn't have enjoyed a long chat with Dario about the nine Iditarods he's completed."
In addition to following a personalized travel plan, Authentic Luxury Travelers stay in lodging that reflects the local environment. That might be a "five-star" bush camp in Zambia, a luxurious tent with daily maid service in Sequoia National Monument, a beautiful home on a sheep station in New Zealand, or an historic city hotel.
Authentic Luxury Travelers also enjoy attentive service and every comfort while wandering off the beaten path instead of following the well-worn trail of tourist sites. Meals might be at restaurants with Michelin stars or at mom-and-pop places the locals love or in a scenic spot with ingredients purchased at a farmers' market.
Authentic Luxury Travelers often stay in one place long enough to learn to cook the regional cuisine, watch wildlife with a native guide, and celebrate the destination's national holidays. These meaningful experiences help travelers get to know local people and their culture and can lead to life- changing connections.
The fine print: bespoke travel plans take time and effort. That's where
Authentic Luxury Travel
comes in.
"My travel writing career has taken me all over the world in search of authentic experiences, and I happily share what I've learned on my site, including tips for visiting various destinations as a traveler, not a tourist, and some of my favorite boutique hotels, vacation rentals, places to eat, voluntourism opportunities, and special-interest trips.
"I'm also happy to ease your way to Authentic Luxury Travel by helping you plan your trip or by recommending a travel expert who lives in your chosen destination."
About the author:
Elizabeth Hansen specializes in sharing travel secrets with her readers. She is the Travel Editor of Ranch & Coast, San Diego's luxury lifestyle magazine, and the author of three travel blogs. Authentic Luxury Travel guides affluent travelers to off-the-beaten path experiences.
La Jolla Travel Information
provides insider info for visitors to her hometown, and
Staying Healthy On the Road
offers tips for feeling great away from home.
Hansen has written Frommer guides to Australia, New Zealand, and San Diego, as well as numerous travel features for magazines and newspapers. Her "Authentic Luxury Travel" site won Best of Show in the 2012 San Diego Press Club Excellence in Journalism awards. She also finished first in the "Luxe Travel Writer" category of the readers choice contest on The Luxury Hub site. Hansen is an advocate of – and knows the secret to - bespoke travel. She enjoys helping her readers create custom itineraries that lead to meaningful adventures.
Contact
Authentic Luxury Travel
Elizabeth Hansen
858-459-8851
www.AuthenticLuxuryTravel.net

Contact