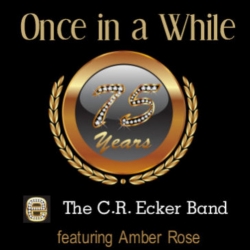 Los Angeles, CA, November 14, 2012 --(
PR.com
)-- The C.R. Ecker Band stretches its creative width and breath with the first complete country re-cast of one of the all-time classic Big Band songs, "Once in a While." To honor composer Michael Edwards and lyricist Bud Green on the 75th Anniversary of one of the most coveted "love lost" songs of all-time, the group releases the first country ballad version featuring Nashville's Amber Rose.
Written in 1937, this highly-charged, emotional song, according to C.R. Ecker, "featured a very young Frank Sinatra, new to The Tommy Dorsey Orchestra, taking the microphone for that first version of 'Once in a While," which has been covered by a star-studded group of over one dozen singers and instrumentalists over the years."
But Ecker notes that "now that the staggering number of covers to the song ended years ago, we thought it would be fitting to do an arrangement true to the emotional theme of the song in an entirely different way to re-introduce this compelling composition beyond those of 'The Greatest Generation' and "The Baby-Boomer Generation" already familiar with the song from their times.
"We wanted to do it in a way that had never been done before, both instrumentally and stylistically, for a largely country music audience that follows our band."
To that end, Ecker and producer Stacy Hogan stripped "Once in a While" to the core, producing a new arrangement to what Ecker envisioned as "a song perfectly suited to a couple in a long embrace on the dance floor, but with a country style and substance."
For this reason, says Ecker, "the primary 'instrument' in this new version is Amber's compelling and emotive voice, accompanied by a gentle, tender blend of acoustic guitars, steel guitar, wire sticks and tambourine."
This is the first cover for The C.R. Ecker Band, which has released 13 country songs through digital download services. Another is a Christian anthem with a second of that genre in production for early next year.
Willie Nelson sang "Once in a While" in a 1985 album of classics, but he was backed by a light easy listening combo. There have been no other country artists who have covered "Once in a While," but Ecker relates that in other genres, the list is impressive.
Nat King Cole, Bing Crosby, Sarah Vaughn, Louis Armstrong, Doris Day, The Dinning Sisters, The Platters and Dean Martin all recorded early versions of the song, but a "doo-wop" group, The Chimes, went to #11 on the Billboard Charts in early 1961 and by doing so, introduced the song to millions of "baby-boomers" who were just learning to "slow dance."
Ecker was among them. "I remember as an awkward ninth-grader finding a girl to actually agree to let me take her to a sock-hop after I got up the nerve to ask her. Her name was Molly and we slow-danced to this song, the first time either of us had done this. I remember every second of that wonderful experience to this day.
"All these years, 'Once in a While' has remained my favorite song because of this memory. And by introducing it to a new audience of young and old after all these years, I hope they will share a warm feeling for this very special and poignant classic."
More recent covers were recorded by Charlie Landsborough of Britain, who made it the album title song of a compilation of favorites of his own, and by Pearl Jam front-man Eddie Vedder, who recorded a ukulele send-up.
The version of the song recorded by The C.R. Ecker Band will be available for sale within the United States only through iTunes, Amazon mp3 and cdBaby, through an agreement with the song's publisher, E.M.I. Mitchell.
Further information about the band can be found through search engines by going to The C.R. Ecker Band (Behind the Wall).