Fast Rising African Rapper Chyme HD Premieres New "Cups in the Air" Hit Single Featuring Ade Piper
Chyme HD, also known as the high definition rapper with the skills of a veteran is back with a definite party starter and club banging hit titled "Cups in the air."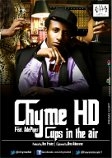 Lagos, Nigeria, November 14, 2012 --(
PR.com
)-- 'Cups in the air' is a hard but catchy fusion of hip hop, afro-pop and a trending 'Nigerian' sound with an infectious choral rendition in Nigeria's Igbo dialect and a dash of Yoruba. The sound is big and energetic and comes with that verve and thump that club bangers are renowned for. Thanks to Ben Foster whose choice of instruments hybridizes into a single merry mix that beautifully accommodates Chyme HD's verses and Ade Piper's chant.
While Chyme HD carves an impressive lyrical play with the song, Ade Piper takes it wittily to a floor level and forms a loveable tune stemmed from harmonizing energies.
His first single 'killing me softly' which he featured Omo is still getting rave reviews on TV/radio and is an acclaimed favorite of many industry heads while his second single 'Nara Ekele' is fast becoming a hit in Eastern Nigeria.
Fast rising rap artist Chyme HD is one of Nigeria's future musicians who comes with a truckload of brilliant and exceptional musical content that appeals across borders. Born in the city of Portharcourt, the songwriter and rapper grew up on music by the likes of Rakim, Craig Mark, Wu Tang Clan, Notorious B.I.G, DMX, Bone Thugz n Harmony, Ludacris, Nelly, Immortal Technique and Sticky Fingerz. "On the home front, I'm still a fan of the Trybesmen, all the SWAT ROOTS, M.I, Jesse Jagz, Ice Prince, Raw and Ruggedman," he adds.
Chyme HD, the humorous baritone of the Port Harcourt bred rapper urges any guy and lady to step up and dance with your cups in the air!
Chyme HD is signed to Lagos and UK based Haven Music.
Download 'Cups in the Air' (SoundCloud):
http://soundcloud.com/warehaus-1/1-cups-in-d-air-4ster-mix
Download 'Cups in the Air' (HulkShare):
http://www.hulkshare.com/lkp0tag4kef4
You can also connect with Chyme HD via the following social media
Twitter:
http://twitter.com/chymehd
Facebook:
http://www.facebook.com/pages/Chyme-HD/151125304955365?fref=ts
Reverbnation :
http://www.reverbnation.com/chymehd
Media & Bookings:
Please direct all media and booking inquiries to >>
buzzwarehaus@gmail.com
Contact
The buzz Warehaus
Bj Ajayi
2348098552295
www.buzzwarehaus.com

Contact