Vivo Interactive Debuts the World's First Suite of Live Social Casino Games
As delegates prepare to attend the Social Gambling Conference 2012 in London, Vivo Interactive launches the world's first complete suite of live streaming social casino games on Facebook.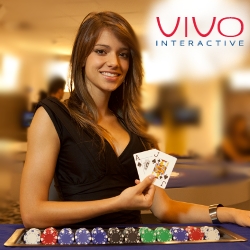 Silicon Valley, CA, November 13, 2012 --(
PR.com
)-- Vivo Interactive, a US social game development company, today announced the launch of the world's first suite of live streaming social casino games. Four Beta Facebook applications have been released including Live Blackjack Early Payout™, Live American Roulette, Live European Roulette, and Live Baccarat. The launch of Vivo Interactive's new Facebook applications comes the same week that iGaming Business is hosting the 2012 Social Gambling Conference at the Dexter House in London on November 16, 2012.
"There are many Random Number Generated (RNG) social casinos available but they lack a fundamental social feature, interaction with a live dealer! By deploying one of the first ever live streaming applications on Facebook, Vivo Interactive will bring an unprecedented social experience to users by allowing them to play, chat and interact both with their friends and with our live dealers in a community setting," said Vivo Interactive's Co-Founder, Martin Reiner.
Vivo Interactive has two core business models. The first model is B2C, enabling players to play for free on Vivo Interactive's Facebook applications. Once a user has joined one of Vivo's Facebook applications, they are automatically provided free virtual currency and can begin playing in seconds. The company's focus will be on building a user base before beginning to monetize the B2C model through the sale of virtual goods and services. The second model will support B2B sales. The company has developed a rich Application Programming Interface (API) which enables existing social casinos such as Facebook's largest casino, DoubleDown Casino, to easily integrate Vivo's live video feed and live game results into their own application. Likewise, major land based casino brands pushing into the social arena may choose to White Label Vivo's technology and operations.
Mr. Reiner added, "We launched our
live social casino
product with relatively basic social features in order to be first to market with live streaming video games on Facebook. We elected to build our games from the bottom up, investing heavily in the infrastructure to be able to support the massive player load we expect. We can presently support approximately 15,000 concurrent users, two orders of magnitude more than most real money live dealer casinos. And our distributed architecture will support even greater scale when need arises. This positions us to form partnerships right away with more mature brands. Presently, our Beta applications let you see and hear the dealers while you are playing. Soon, we will add many new social features to attract players, create competition among friends and much more. When you introduce a live person into a social game, many new and exciting social features which have never been seen before become available! Stay tuned for the most fun, compelling, and viral casino experience on the Internet!"
To book an appointment with Vivo Interactive's senior management team at The Social Gambling Conference in London please email info@vivointeractive.com.
###
About Vivo Interactive
Vivo Interactive (www.vivointeractive.com) is the world's leading developer of live social casino games available for free play on Facebook. The company's games currently include Live Blackjack Early Payout™, Live American Roulette, Live European Roulette, and Live Baccarat. Offering both B2C and B2B products, the company is pioneering the niche live social casino market by providing the most entertaining and engaging casino experiences available online. To play Vivo Interactive's games, visit
www.facebook.com/VivoInteractive
. For more information about the company, contact info@vivointeractive.com.
Contact
Vivo Interactive
Ryan St. James
+5083287373
www.vivointeractive.com

Contact