Texas Biker Band Elvis Tribute CD "Going Back to Memphis: A Biker Band Tribute to Elvis"
Band to Donate Royalty to BACA (Bikers Against Child Abuse) and St. Jude's Childrens Hospital.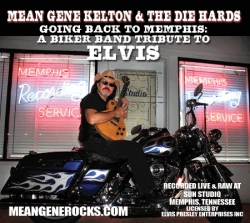 Houston, TX, July 18, 2007 --(
PR.com
)-- Commemorating the 30th Anniversary of Elvis' death, Texas' #1 Biker Rally Band, Mean Gene Kelton & The Die Hards have recorded a new Jambone Records CD,"Going Back To Memphis: A Biker Band Tribute To Elvis" at the legendary Sun Studio in Memphis, Tennessee.
Since the early nineties, Mean Gene Kelton & The Die Hards' high-energy Texas Blues and southern-fried rock 'n roll have made them one of the top biker bands, performing at major rallies, dealerships and swap meets across the country along with David Allan Coe, Lynyrd Skynyrd, Marshall Tucker Band, Ten Years After, Canned Heat, Bad Company, Mark Farner (Grand Funk) and others. They have earned many awards and garnered seven # 1 songs on Bluesrock charts.
In 2003, the band was recruited to perform at the former Elvis Presley's Club on Beale Street in Memphis, Tennessee. After seeing the audience's overwhelming response to Kelton's own interpretations of Elvis songs, Graceland insisted that Kelton perform 90% Elvis songs in his nightly show. The tourists loved the versions, and the reps from Elvis Presley Fan Clubs gave the band "two thumbs up."
Whenever the band was on break from Elvis Presley's Club, they toured the country performing at bike rallies, where their high-energy southern rock versions of Elvis songs were enthusiastically accepted by legions of rowdy rebels in black leather.
"We changed some arrangements, added guitar and harmonica solos giving those songs a whole new, grittier feel. We even added a bass guitar solo on Hound Dog, and it rocks," says Kelton. "Bikers always request our versions of Elvis songs," says Kelton. "There's nothing like having a dozen Biker Babes up on stage with us bumping and grinding to one of our Elvis songs."
With 2007 commemorating the 30th anniversary of Elvis' death, and Graceland Harley-Davidson unveiling the official "Elvis Harley" during Elvis week in Memphis, it is only natural that Mean Gene Kelton & The Die Hards be the ultimate band to record the ultimate Biker Band Tribute to Elvis.
"We are honored that Graceland and Elvis Presley Enterprises loved our Southern rock Biker Band Tribute to Elvis concept, and gave us their official blessings to 'TCB,'" says Kelton.
"Recording at Sun Studio in Memphis was a dream come true. We were treated like movie stars. We stood in the same spot where Elvis, Carl Perkins, Roy Orbison, Jerry Lee Lewis and Johnny Cash once stood."
"We set up our gear and performed all thirteen songs, live and raw, just like we'd play them at a bike rally," says Kelton. "I refused to use click tracks or scratch vocal tracks. We did very minimal over-dubbing. I wanted to capture the band's live, raw, unpolished feel and unbridled enthusiasm for this project. It kicked a**!"
Kelton is donating a special royalty from the sale of each CD to two separate charities, one being B.A.C.A.,(Bikers Against Child Abuse). "I truly believe in their cause," says Kelton. "Little children shouldn't have to live in fear and they need someone who will look out for them the way BACA does."
"We are also donating a royalty to St. Jude's Children's Hospital in Memphis. When I told my Mother we were donating a royalty to St. Jude's," says Kelton, "her voice cracked as she reminded me that we lived in Memphis when I was eight years old and almost died of pneumonia. St. Jude's saved my life and did not charge her a dime. I am very proud to have reached a point in my life and career where I can give back something to these great organizations so they can help other families the way we were helped."
"Going Back To Memphis" showcases Kelton's own, unique houserockin' Texas blues and southern rock interpretations of songs previously recorded by Elvis, including Jailhouse Rock, Polk Salad Annie, Hound Dog, Heartbreak Hotel, Steamroller and others. The title track, "Going back To Memphis" is a Kelton original about the second coming of Elvis that hit #1 on internet Rockabilly Charts.
"Elvis' music is all about having fun," says Kelton. "We want people to forget about their troubles, crank up the volume, jump up and dance and just have fun listening to the CD."
There will be a lot of fun to be had at the wild and crazy CD release party planned for Friday, August 17th, 2007, at Coyote Ugly on Beale Street in Memphis, Tennessee. Other CD release parties are planned for Biker friendly locations in Texas and across the country shortly thereafter. Tour dates, booking info and the new CD "Going Back To Memphis: A Biker Band Tribute To Elvis" is available at http://www.meangenerocks.com .
For interviews with Mean Gene Kelton, contact Jambone Records:
pr@jambonerecords.com
http://www.jambonerecords.com
Mean Gene Kelton & The Die Hards
House Rockin' Texas Blues & Southern-Fried Rock 'n Roll
Fansite: http://www.genekelton.com
Hotline: 713-866-4872
###
Contact
Jambone Records
Joni Kelton
832-495-4054
www.jambonerecords.com

Contact