ecoBURICA to Sell Costa Rican Resort
Spectacular black sand beach, fresh water lagoon, old growth forest! After 20 years ecoBURICA of Costa Rica decides to sell pristine "last frontier" property.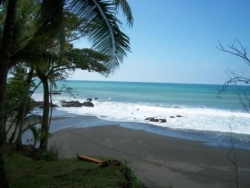 San Jose, Costa Rica, November 27, 2012 --(
PR.com
)-- A truly unique combination of Pacific oceanfront and old growth forest with beach access at both low and high tide.
This 184 hectare (450 acre) property, which has been compared to Costa Rica's acclaimed Manuel Antonio National Park, is about half way down the Punta Burica peninsula south of Golfito, an area still covered with pristine jungle. The current owner after 20 years of development has decided to make the property available for sale.
Across the river from the property is a 20,000 acre indigenous Guaymi reserve and the immensity of the reserve means that the area is rich with monkeys (3 species) and birds.
This large oceanfront Costa Rican property has been owned by the same Owner for 20 years. It is duly registered and legally titled to 200m from the high tide mark which is as close as one can get to the ocean in terms of Costa Rican land ownership. The next 150m are designated as a 'maritime zone' for which a 'Permiso del Uso' (permission to use) has been secured and taxes paid for over 15 years. All details can be confirmed during the due diligence process.
Over the years, the current Owner has made excellent contacts who have assisted with the bureaucracy that can impede a foreign investor. The future Owner can be introduced to all the necessary people responsible for ensuring a smooth transfer of ownership and consideration of any development plans.
The property is currently held within a corporation that has been registered and operating for 20 years, accumulating significant goodwill in the process. As a result, the sale can be structured through purchasing the shares of this corporation, eliminating the need to re-negotiate leases and other issues with the municipality.
This property offers significant potential and an opportunity to own/develop a part of Costa Rica that has rarely been seen by outside eyes. It is worth reviewing details at
www.joeware.com/costarica
to get a picture of what all of Costa Rica once looked like.
Contact
ecoBURICA
Hilary Amolins
1-866-266-5467
www.joeware.com/costarica

Contact