Storage Made Easy Announce XTime as a Unified Cloud File Server Customer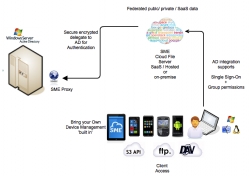 London, United Kingdom, November 28, 2012 --(
PR.com
)--
XTime
is now using
Storage Made Easy's
SaaS unified
Cloud File Server
Platform. XTime is the leading provider of web scheduling and customer relationship management (CRM) solutions for automotive service departments in North America, covering more than 4,800 dealerships.
"We ran an extensive trial prior to choosing Storage Made Easy," said David Richards, application specialist, XTime. "We've been using the system for more than a year now while expanding our user base. We chose Storage Made Easy because we wanted a familiar, folder-based solution that would be easy for our people to use on their own. File versioning and folder security were also requirements, which SME provides. And although we didn't know it when we first signed on, SME's support has been truly outstanding. We made several requests for enhancements, which were implemented within days and exceeded our expectations."
The Storage Made Easy Cloud Service Broker provides a Cloud file server to access public and private information stores that can be viewed and managed in an aggregated fashion. For example, an administrator can configure public folders, such as HR, marketing, or projects to be stored on Amazon S3 or other clouds while enabling users to add their own Google apps, Box, DropBox etc accounts. This can be complemented by adding access to files located within an in-house storage appliance. Users can see and manage all these files in an aggregated view from any Linux, Mac or Windows desktop or any iOS, Android, BlackBerry, or Windows phone mobile device.
The cloud file server administrator can control user access, permissions, and notifications across a range of clouds. They can use file event auditing, which logs any user access or file event using geolocation information or set global encryption keys for across clouds for security.
Business file sharing
is also a key part of the system. Users can send links that they set to expire at a specific time. This can be combined with security options in which links shared cannot be opened without a password.
"XTime is a tried and tested performer, with nearly 50 million appointments booked through its system, so we're gratified that they chose us," said Jim Liddle, CEO, Storage Made Easy. "Our Cloud File Server is completely open, so XTime can decide the best cloud combination for them, while we provide them with the controls to manage and monitor their information."
About Storage Made Easy
Storage Made Easy provides a cloud service broker platform and related services either as SaaS or a hybrid on-premise solution. Storage Made Easy unites cloud and data services into a single environment, guaranteeing file access no matter the location or device while providing the highest levels of management, security, compliance, audit, and access services.
Storage Made Easy is wholly owned by Vehera Ltd., a private London based limited company.
About XTIME
Xtime is the leading cloud-based Customer Relationship Management (CRM) and scheduling platform for automotive manufacturers and dealer service departments. Xtime counts more than 4,800 dealerships as customers and has registered almost 2 million consumers. It processes more than 1.3 million appointments each month and has scheduled almost 50 million in total. Xtime is the exclusive or preferred provider for leading global automotive manufacturers in North America, including Lexus, Toyota Canada, Toyota US, BMW, Mercedes-Benz, Nissan, Infiniti, VW, Audi, Chrysler and Hyundai. Xtime is also the trusted choice for many of the industry's leading dealership groups including AutoNation, Group 1 Automotive, Sonic Automotive, Asbury, Luther, Ferman and Checkered Flag. Xtime is based in Redwood Shores, California and can be reached at (650) 508-4300 or www.xtime.com.
Media Contact
Amy Kenigsberg
K2 Global Communications
amy@k2-gc.com
tel: +972-9-794-1681 (+2 GMT)
mobile: +972-524-761-341
U.S.: +1-913-440-4072 (+7 ET)
Contact
Storage Made Easy
Ana Foncea
0044 709-220-7207
www.storagemadeeasy.com

Contact