"Primordia," a New Horror Thriller Published by Barren Hill Publishing, Hits Amazon
T. A. Bradley, author of the two volume horror thriller, "Relic of the Damned," releases "Primordia," his latest tale into terror in both paperback and ebook formats. Scientific ambition, a mutated virus and a case of mistaken identity plunge a family and their community into the depths of a horror that no one could have imagined. When Ross Clayton is mistakenly murdered for his double, an experimental pacemaker, fueled by a mutant virus, brings him back in a terrifying state.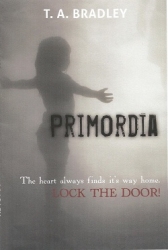 Conshohocken, PA, November 30, 2012 --(
PR.com
)-- In association with Barren Hill Publishing, author and Conshohocken resident, T. A. Bradley has released his long-awaited next horror novel, "Primordia," a chilling tale of blind ambition, mistaken identity and science gone awry. When one man is stripped of everything he loves, including his life, his efforts to put things to rights have terrifying consequences.
Col. Ross Clayton is a dedicated scientist, devoted to his wife Irene, his ten year old son, Tommy, and his four year old daughter, Amanda. He is also a dead-ringer for Blake Arletti, a hit man trying to escape his past and outrun an assassin. When their paths cross, Ross's life comes apart in horrific fashion. Having fallen ill with a mutated virus, Ross is implanted with ERIC-D, an experimental, radio-isotope fueled pacemaker. And when he is mistaken for Blake, murdered and buried in the park, it isn't long before the damaged pacemaker enhances the mutation of the virus and Ross is reanimated in a near primordial state. Now, neither living nor dead, he is faced with the loss of everything he ever cared about. And when the assassin crosses paths with his family and murders Amanda, Ross must force himself to find one last strand of humanity. In a desperate act to bring back the daughter he loves, Ross sets in motion something more chilling than anything anyone could have imagined.
A great job blending technical/realistic aspects of biological issues in a way that informed/entertained, but more importantly, didn't bore. Great narrative and believable characters. - Dane Hatchell, Author of "Resurrection X Zombie Evolution"
Contact
Barren Hill Publishing
T. A. Bradley
610-941-5445
www.tabradley-derangedwriter.com

Contact