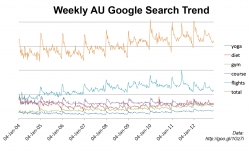 Sydney, Australia, December 06, 2012 --(
PR.com
)-- The post-Christmas period is traditionally a time of rest and recovery for small business, with many closing their doors and taking a well-earned break.
However an eight-year analysis of Google search trends shows the number of searches on terms such as "yoga," "gym," "course" and "flights" spike by around 20% during early January before dropping back down to normal levels in February.
"With New Year's resolutions, Christmas guilt, and a renewed sense of optimism, many prospective customers start the year strong but small businesses are still in recovery," says Phil Robinson, MD of Australian startup and activity directory nospuds.com.au.
"January is all about personal growth and change and small business needs to tap into this and be ready to leverage this feeling of growth," says Robinson.
nospuds.com.au - a
free directory of events and activities
- experiences a drop in the number of businesses adding events and activities over December.
"This should be a key period for businesses wanting to take advantage of the new year surge in consumer interest," Robinson says.
He suggests organisations such as community colleges, gyms and yoga studios get their 2013 timetables up and ready before they break for Christmas, and make sure they are available to respond to customer enquiries that come in during early January.
The new year is about more than just quitting smoking, drinking and losing weight. Analysis of internet search traffic shows people are looking to travel somewhere exciting, learn something new, get fit, sort out their finances and even change careers.
Australian Google searches for these industries in the first two weeks of January increase by more than 20% compared with December which shows a clear intent from consumers.
This chart from Google Trends data analyses weekly search volume on search terms around yoga, diet, gym, course, and flights. (Original data can be found here: http://goo.gl/1Gz7i High res graph can be found here: http://goo.gl/5XPLH ).