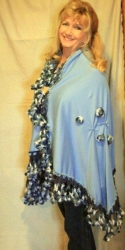 Kilmichael, MS, December 15, 2012 --(
PR.com
)-- WildFlower Heart announces launch of its e-shops (www.etsy.com/shop/jowray) for unique fashions by Jo Stewart Wray (www.jostewartwray.com).
Wray, who owns Jo Wray's Antiques in Kilmichael, MS, and is a retired high school English teacher and author, has carved out a niche in the fashion world with one-of-a-kind art-to-wear for the ageless woman who believes that dressing daily is an art and a reflection of the inner woman.
Wray's clothing collection contains dresses, skirts, tops, shawls, coats, sweaters, pants, vests, and accessories. The clothing is recognized for its artistic flair, with touches of elegance and whimsy. She combines new and vintage materials. Some of the items feature crochet, hand-dyeing, lace, vintage inspired fabrics, texture, embroidery, and appliqué. Wray follows no formal rules for designing and sewing. Each item is a creative inspiration sewn with love.
The flag ship of Wray's collection in crocheted embellishments and vintage-inspired fabrics. Each piece is crafted by hand, often with hand-painting and hand-dyeing. In spite of the intricate details and processes, the fashions sell at lower prices than those of competitors.
Founded in 2006, WildFlower Heart opened the online stores recently to create exclusive outlets for Wray's clothing. The e-shops
www.jostewartwray.com
and
www.etsy.com/shop/jowray
are the venues online to purchase the authentic WildFlower Heart fashion collections by Jo Stewart Wray.
WildFlower Heart will update these websites as new items are created.