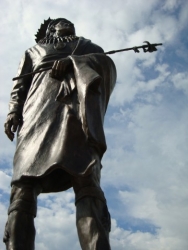 Miami, OK, December 17, 2012 --(
PR.com
)-- Kelly and Tammy Rundle of Fourth Wall Films, producers of the Emmy® nominated documentary "Country School: One Room-One Nation" and the award-winning "Lost Nation: The Ioway" will appear for a special Oklahoma Humanities Council preview screening of their new documentary "Lost Nation: The Ioway 2&3" at the Miami Oklahoma Public Library, 200 N. Main Street, Miami, Oklahoma on Wednesday, December 19, 2012 at 6:30 p.m. Following the film presentation, the Rundles will join Tribal Elders Joyce Big Soldier-Miller and Mae Sine from the Iowa Tribe of Oklahoma for Q&A. The event is free to the public.
"We are excited to bring the documentary to Oklahoma for this special preview screening," said producer Tammy Rundle.
When the Ioway are forcibly removed from their ancestral homelands in 1837 to a reservation in Northeast Kansas, Ioway leader White Cloud (The Younger) believes his people must relocate to survive. But intermarriage, broken treaties and the end of communal living leads to a split in 1878 and the establishment of a second Ioway tribe in Oklahoma. Both tribes endure hardship and challenges to their traditions and culture to achieve successful land claims and self-determination in the1970s. "Lost Nation: The Iowa 2&3" brings the Ioway story full circle.
The Ioway join other American Indians, historians, anthropologists and archaeologists to tell the dramatic and true story of the small tribe that once claimed the territory between the Missouri and Mississippi Rivers from Pipestone, Minnesota to St. Louis.
"It is an emotional story," said director Kelly Rundle. "But it is also a story of perseverance, strength and survival."
Through their fiscal sponsor Kansas Public Telecommunications Service, Inc. (KPTS-PBS), the documentary sequel project was awarded a grant from Oklahoma Humanities Council and the National Endowment for the Humanities for production in Oklahoma.
"Lost Nation: The Ioway 2&3" will premiere in February 2013, with public television broadcasts and a DVD release to follow. An alternative soundtrack in the nearly extinct Ioway language will be offered on the DVD. The special OHC preview screening of "Lost Nation: The Ioway 2&3" offers the public a sneak-peek at the new film.
The Oklahoma Humanities Council is an independent, nonprofit organization whose mission is to provide meaningful public engagement with the humanities—disciplines such as history, literature, film studies, art criticism and philosophy. As the state partner for the National Endowment for the Humanities, OHC provides teacher institutes, Smithsonian exhibits, reading groups and other cultural opportunities for Oklahomans of all ages. With a focus on K-12 education and community building, OHC engages people in their own communities, stimulating discussion and helping them explore the wider world of human experience. Funding for this program is provided in part by a grant from the Oklahoma Humanities Council (OHC) and the National Endowment for the Humanities (NEH).
Any views, findings, conclusions, or recommendations expressed in these films and program do not necessarily represent those of OHC or NEH.