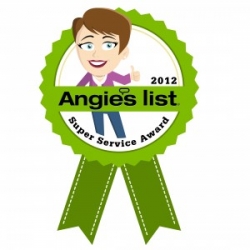 Orlando, FL, December 25, 2012 --(
PR.com
)-- Advanced Film Solutions, Orlando has earned Angie's List Super Service Award for 2012. This is the second year in a row that they have been designated for this honor.
www.angieslist.com/companylist/us/fl/orlando/advanced-film-solutions--orlando-reviews-6234642.htm
Mike Feldman, President of Adanced Film Solutions explained "This is certainly an honor and we are extremely proud of all of the Advanced Film Solutions sales and installation team for their attention to meeting and exceeding all of our client's requirements. We;d like to thank all of our Orlando area clients for their objective recommendations and referrals."
This award is an honor received by only an estimated 5 percent of all companies rated on the website.
"It's a select group of companies rated on Angie's List that can claim the exemplary customer service record of being a Super Service Award winner," says Angie's List founder Angie Hicks. "Our standards for the Super Service Award are quite high. Earning it speaks volumes about a company's dedication to providing great service to its customers."
Angie's List says its Super Service Award 2012 winners have met strict eligibility requirements, including earning a minimum number of reports, an excellent rating from their customers and abiding by the website's operational guidelines.
"Super Service award eligibility is based on the size of the city and how long Angie's List has been there," says Cheryl Reed, Angie's List communications director. "Angie's List must be established in a city for at least one year, prior to any company being considered for the Angie's List Super Service Award. As our markets grow in each city, in terms of businesses and members, eligibility may change to ensure that less than 5 percent of businesses are eligible for the award each year. We look to preserve the value and integrity of this award program in order to give businesses the prestige they earn as an industry leader."
Companies are graded on an A through F scale in areas ranging from price to professionalism to punctuality. They must maintain a minimum "A" grade point average factored by averaging overall grades, most recent grades and the review period (yearly) grade. Company ratings are updated daily.
About: Advanced Film Solutions
tintingorlandofl.com/
was founded in 2007 by Mike Feldman, formerly the National Sales Manager of 3M Window Film; Advanced Film Solutions with offices in Tampa Bay and Orlando has grown into one of the largest window film installation companies in Florida.
Contact: Adam Feldman, Vice President
Tel: (877) 575-3456, (407) 843-9350
Website: www.advancedfilmsolutions.com