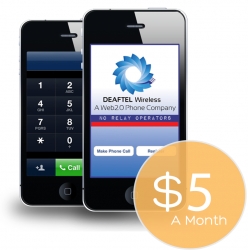 New York, NY, December 25, 2012 --(
PR.com
)-- Deaftel Wireless is a new iPhone app for the Deaf and Hard of hearing that lets them talk to any hearing person over the phone. It works by using cutting edge technology that converts a hearing person's voice into text and the Deaftel user's text response back into voice over the phone.
According to Kunal Batra, the founder of the Deaftel app, "The current methods for people with hearing loss to talk over the phone are outdated, expensive and rely on relay operators or communications assistants to sit in-between the call." He goes on to mention a scenario, "Imagine trying to call a doctor, lawyer or loved and want to have a private conversation. With the current relay system, this is not possible. Also most businesses use phone systems instead of cell phones, which don't support SMS messaging."
With the introduction of new smart phones, the Deaf and people with hearing loss can now talk to anybody else. Interested users just have to visit the Deaftel website, sign up and login to the app on their iPhone.
Interestingly, Kunal never set out to create a phone service for the deaf. He was actually working on another startup that was trying to make an Indian Social Network. He decided to take a break one weekend and enter into a programming contest. He thought it would be interesting to create a chat client that was connected to a phone number. Whatever someone spoke was converted into text and whatever someone typed was converted into voice.
He didn't win the contest and just forget about the entry. Luckily, his entry was written about on a small blog. From there he started to get emails from the Deaf community asking to use the service. Over the next couple of months the emails started to increase in frequency and urgency. He decided to stop working on his previous startup and focus on Deaftel full-time.