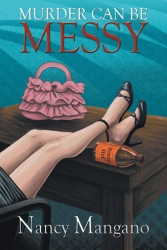 Anaheim, CA, January 04, 2013 --(
PR.com
)-- The stylish super sleuth Natalie North is at it again, busting adulterous, lowlife partners while working in her father's Los Angeles private investigations agency, I Pry, Inc., and always wearing a great pair of high heels!
To all outward appearances, Blake and Victoria Belmont are the envious Beverly Hills power couple. When PI Natalie North is hired by Victoria Belmont to catch the magnetic Blake Belmont, the sole heir to the Belmont Beer fortune, with his billion dollar pants down, Natalie discovers Blake's double life. Natalie summons the help of her two wannabe spy friends, her boss Norton North, who happens to be her father, and Darren McAllister, her L.A. senior deputy district attorney love interest, to prevent the conniving Victoria from taking Blake for all of his worth.
Can Natalie intercede and prevent Blake's billion dollar breathing body from becoming a billion dollar corpse?
Joining in the adventure is Floyd Grayson, a handyman with a penchant for killing, who falls into Victoria's charming spell. Can Natalie interfere and foil the murder plot being devised by the scheming twosome to slaughter Blake Belmont and get their gluttonous hands on his billions of bucks brought in by his Belmont Beer empire?
In her latest sizzling, heartfelt mystery, author Nancy Mangano explores what happens when the elements of greed, lust, betrayal, adultery, power and passion collide, and the desire to obtain the overpowering forces leads to murder.
Visit author Nancy Mangano at www.nancymangano.com