Christopher Weil & Company Launches IMA Partner Professionals to Expand Expertise and Offerings
Commercial real estate veteran Bill Whittaker signs on as IMA Partner bringing 30 years of experience to deepen the CWC bench.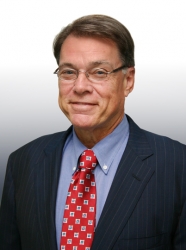 San Diego, CA, January 15, 2013 --(
PR.com
)-- Christopher Weil & Company, Inc. (CWC), a financial services firm, today announced the launch of Investors Managers Advisors (IMA) PartnerSM Professionals, a unique program designed to attract, motivate and retain experienced practitioners across multiple disciplines to partner with CWC to build and serve its client base.
"We have always been committed to being more than just a typical wealth management firm," said John Wells, CWC CEO. "Our goal is to provide peace of mind to our clients. Some have simple money management needs, but our client portfolios and interests can be much more complex and we want to be able to help them manage all of their concerns. This requires a broad base of knowledge and industry experience so we've continuously needed to find ways to deepen the bench. We reached the point where we had to do for ourselves what we do for our clients - think out of the box. And that is where the idea for IMA Partner Professionals was born."
IMA Partner Professionals was created with the seasoned professional in mind. It allows them to continue to practice in an area where they have passion and expertise, but without the overhead and administrative burdens and with the support of a team of complementary experts that they can tap into on behalf of their clients.
Bill Whittaker, a seasoned commercial real estate veteran, has just signed on as an IMA Partner. He is the CEO of Whittaker Asset Management, Inc., a La Jolla based commercial real estate management company with a current portfolio of 250,000 square feet of retail and office space under management. With more than 30 years of experience in the industry, he has been party to thousands of real estate transactions with a total aggregate value in excess of $1 billion and has worked with hundreds of national and regional tenants such as Verizon, State Farm, Arby's, H&R Block, Safeway and Rite-Aid.
With his extensive experience in almost every aspect of the commercial real estate lifecycle, Bill will direct the activities of CWC Realty Advisors (CWCRA). CWCRA was established to evaluate and find commercial real estate investments for investors, and acts as owner's representatives in the asset management of commercial properties for our own assets as well as 3rd party properties. Additionally, CWCRA is available for consulting and advisory services on a wide range of issues impacting commercial real estate, such as environmental matters, tenant renewals, refinancing and acquisitions/dispositions.
"I am very excited to be a part of CWC's IMA Partner Professionals," said Whittaker. "I can continue to do what I love, but even better than before with the resources that CWC can provide to me. We can serve our mutual clients stronger as a team. They have expanded what I can offer my clients and have a reputation that I am proud to connect with my brand. In return, I can help them extend their reach and depth of knowledge in real estate. It really is a win-win."
CWC is actively seeking professional and passionate experts in their field to become IMA Partners. Ideal candidates will have extensive experience and proven success in building and managing an accounting, law, or real estate practice or in another field that could potentially fit with CWC, its IMA Partners and its clients. For more information, please visit the IMA Partners page at http://www.cweil.com/imapartners.
About Christopher Weil & Company
Christopher Weil & Company, Inc. ("CWC") is a financial services firm that services clients nationwide. With over forty years in the financial world, CWC, together with its affiliates, work from every angle as investors, managers and advisors to bring their clients peace of mind. The firm is both a securities broker-dealer and a registered investment advisor, enabling it to provide a comprehensive and integrated mix of client services. CWC is innovative in responding to client needs and dedicated to nimble, intelligent customer service with a personal, family touch. For more information, please visit www.cweil.com.
Contact
Christopher Weil & Company
Sandra Korwek
800-355-9345
cweil.com
Media contact: Cynthia Guiang
CG Communications
858-793-2471

Contact