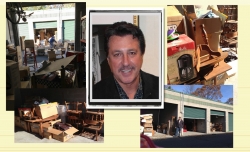 Farmingdale, NY, January 16, 2013 --(
PR.com
)-- Rosario "Russ" Cassata, Trustee of the Frank Cassata Family Foundation a Non-for-Profit Charitable Organization, has personally donated several storage units full of clothes, blankets, bedding, toys, household items, furniture, small appliances to help those who are in need and less fortunate during these ill-fated times.
All thru the year his family has personally donated hundreds of thousands of dollars from our non-for-profit foundation to numerous causes to help fight against hunger, breast cancer, diabetes, leukemia and to help just those who are in need and less fortunate.
The Frank Cassata Family Foundation has donated to organizations such as, but not limited to, the Police Athletic League, the Boys and Girls Club, The Smile Train, Susan G. Komen Breast Cancer Foundation and Juvenile Diabetes Research Foundation and so many more.
This year their foundation will host its annual local charitable events including The Frank Cassata Golf Classic to raise awareness and donations for both diabetes and cancer.