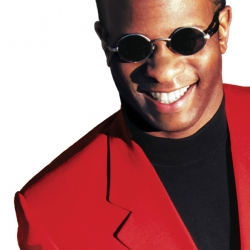 New York, NY, January 18, 2013 --(
PR.com
)-- After performing to a packed house on November 17, 2012, New York-based soulful jazz singer, Fredrick Levore, will perform once again at New York's Somethin' Jazz Cafe on January 26th. Mr. Levore will perform two 45 minute sets from 9:00 PM to 10:45 PM. Both sets will include Mr. Levore's original song, "Autumn Fell," from his "Skindiver" album, as well as arrangements of celebrated standards.
Fredrick Levore's classic R&B tributes will include: "Got To Find Me An Angel" and "Share Your Love With Me" by Aretha Franklin, "Creepin' & Another Star" by Stevie Wonder, and "Any Love" by Luther Vandross. Jazz selections will include: "Nobody Does Me Like You Do" by Diane Schuur, "Love Everlasting" by Jon Lucien, and "You're The One" by Lou Rawls.
Somethin Jazz Café continues to be a favorite New York performance venue for Mr. Levore. "I love that Somethin Jazz Café is centrally located on one of the most historic streets associated with jazz music in New York City, 52nd Street. It's an intimate setting, but there's plenty of room for the audience to not feel too crowded in."
On Saturday, January 26th, Fredrick Levore will be accompanied by award winning pianist, Roy Meriwether (winner of the New York Manhattan Association of Cabaret "MAC" Award & Lifetime Achievement to Music Award). "We'll be performing combinations of R&B, Blues and Jazz songs," states Mr. Levore, "and Roy will provide his trademark soulful, gospel feel to the set."
Reservations are suggested for Fredrick Levore's January 26th engagement at Somethin' Jazz Cafe, and can be made at
somethinjazz.com
.
What: Soulful, contemporary jazz artist Fredrick Levore to perform two sets of original music and standards accompanied by acclaimed pianist, Roy Meriwether.
Where: Somethin' Jazz Café, located at 212 E. 52nd St., 3rd floor, between 3rd and 2nd Avenues.
When: Saturday, January 26, 2012, from 9:00 PM to 10:45 PM.
How: For reservations at Somethin' Jazz Cafe, please visit
somethinjazz.com
or call 212-371-7657.
About Vocalist Fredrick Levore:
Fredrick Levore's musical style is, both inspired by, and executed with a hybrid of popular musical genres. Mr. Levore is known for putting a contemporary jazz spin on each song as his signature style.
In describing his signature take on a song, Mr. Levore explains, "My approach is more soulful and bluesy, with just a measure of R&B. What I hope the audience hears is a contemporary blending of Sam Cook, Lou Rawls and Roy Hamilton mixed with Nat King Cole, Johnny Hartman and Sammy Davis, Jr. [It's] Something new, but at the same time familiar. Those qualities set me apart from other singers."
"George Benson and Al Jarreau are my heroes. They both have legendary jazz chops but can still sing with great, contemporary sensibility. They are my touchstones, along with Teddy [Pendergrass], Jeffery [Osborne] and, of course, Luther [Vandross]," continues Mr. Levore.
Incorporating a bluesy & soulful twist, Levore is a student of the process of making music, as much as with the finished product. "I enjoy how it feels to sing," explains Mr. Levore. "It's about understanding the words and the meaning, catching that thread in the song, and sharing it with the audience."
Fredrick Levore's CD, "Skindiver," released in 2004, is currently available on
iTunes
and at
fredricklevore.com
.