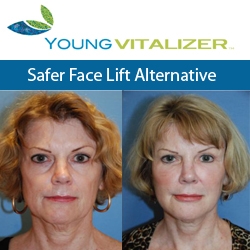 Seattle, WA, January 25, 2013 --(
PR.com
)-- Unnatural and pulled results after face lifts have become common in the minds of the consumer. The problem with the approaches of traditional procedures is the lack of understanding about the aging process and what really makes a face beautiful. The aging process is largely due to a volume loss that shifts the face inward and downward. In contrast, facelifts and traditional procedures tend to pull the face in an upward and backward fashion.
The YoungVitalizer™
is based on this premise. Together with
Dr. Philip Young
's Theory on Facial Beauty, this new technique shapes and presents the most important features of a person's face in an outward and upward fashion. The YoungVitalizer reverses the aging process in the correct direction. The result is a younger look that is more natural.
The YoungVitalizer is a minimally invasive, outpatient procedure that requires no facial incisions. It can be done under lighter sedation without general anesthesia. The better, more natural results can last longer than traditional procedures.
The YoungVitalizer
was featured on King 5's New Day Northwest Show with Margaret Larson.