The National Institute for Fitness and Sport Invites You to Step Into the Bod Pod... for Free
Another New Year has come and gone. Are you still stuck at point "A" in your fitness goals? Now is the time to make changes and try a new approach.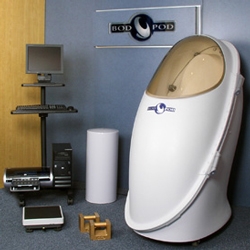 Indianapolis, IN, February 01, 2013 --(
PR.com
)-- The National Institute for Fitness and Sport (NIFS) challenges Hoosiers to "Know Your Healthy Weight" beginning February 1-15, 2013.
Another New Year has come and gone. Are you still stuck at point "A" in your fitness goals? Now is the time to make changes and try a new approach. NIFS recommends "The Mork Experience." If you weren't alive to see the show, or want to relive it, visit http://ow.ly/gWiv1 .
Although you won't fly through space or spend more than a couple minutes inside this egg, you'll come out knowing a lot more about yourself. In fact, you'll know the breakdown of your body composition: body fat; lean mass, etc. Armed with this knowledge, you can set realistic, measurable goals and actually see the results as you go.
Unless you have been able to work with certified fitness professionals you may not know that there are several different types of fitness assessments and screenings, but the Bod Pod is the rock star of them all.
Take a look at what a Bod Pod test can tell you:
• What percentage of your body weight is lean body mass. Better known as the "good weight" your muscles, bones and organs actually effect the number on the scale, by increasing your muscle mass you can actually burn more calories.
• Percentage of body fat. Get ready; it may not be as bad as you thought.
• Body age. You may be 30 but is your body going on 45? Your body age is important to show risk factors you may experience if you don't make some changes.
• BOD POD measurements can help you track changes and the success of your nutrition and/or exercise programs
• Composition tests are excellent indicators of overall health
• Monitor for obesity
• Evaluate risk factors for major diseases like stroke and diabetes
• Used to evaluate how to help you lose or gain body fat safely
• Will help you fine tune your athletic performance/workouts for better results
NIFS member Stephanie Whittaker shares her Bod Pod experience:
"I was so pleased that my weight lost goals for September had been met, but my Bod Pod results revealed that nearly half of that loss was lean muscle mass! Complete frustration and disappointment- I quickly shifted gears and took a critical look at my diet and exercise regimen; knowing that if I didn't make some changes, I would continue to get the same results. I fine-tuned how and when I was fueling my body and modified my workout regimen to incorporate more weight lifting.
Sticking to the plan (no matter what) paid off. My January Bod Pod results reflected continued fat loss and a full recovery of the 4 lb of lean muscle mass that I had lost in September. Bod Pod results are key to navigating my fitness strategy and goal setting."
The "Know Your Healthy Weight Challenge" begins February 1-15, 2013. Want to know what to expect at your Bod Pod testing?
Watch this short video on the Bod Pod
to show you how it's done. Then call or email to setup an appointment time for your free Bod Pod test. Contact us at 317-274-3432 or email apleasant@nifs.org. The testing, complete with a consultation from a fitness professional, takes 30-45 minutes, so please plan accordingly. There are no strings attached, no required trials or commitment to join NIFS.
About NIFS
The National Institute for Fitness and Sport (NIFS) is a non-profit organization established in 1985. NIFS 65,000-square-foot fitness center, located in downtown Indianapolis on the IUPUI campus, has over 3,000 members and some of the most up-to-date equipment in the industry. Through our Nutrition and Wellness department, NIFS provides wellness presentations, webinars and behavior modification programs to corporations and the community. Our Youth Development team hosts field trips for all ages and grades with more than 15,000 kids visiting each year. Fitness Center Management by NIFS provides top notch service to more than 40 onsite fitness centers for corporations and retirement communities in 15 states. Our facility, diverse services and professional, innovative staff make us unique in the fitness industry.
Contact
National Institute for Fitness and Sport
Trudy Coler
317-274-3432 ext. 207
www.nifs.org
250 University Blvd
Indianapolis, IN 46202

Contact