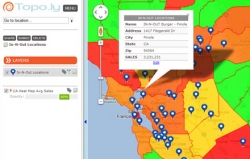 Naperville, IL, February 07, 2013 --(
PR.com
)-- In today's chaotic universe swarmed by data here and there, getting the sense of data proves to be a supreme challenge. New analytic tools are developed to assist many companies but prove to be futile. Hence, Topo.ly has risen to be a leader in data analysis, providing exceptional business intelligence tools to help many companies make sense of their data. To help them be aligned with market analysis, business plans and risk management, Topo.ly elevates the use of data visualization through online mapping.
Over the years, Topo.ly soared to be a business intelligence service providing timely aid in extracting meanings and ideas from data. More and more organizations keep on using Topo.ly's exceptional features to drive success. One of its satisfied users from Salesforce.com, Denyce Kehoe said about the online mapping site, "I've spent over 20 years in sales for visionary companies such as Forbes Magazine, Fortune Magazine and Salesforce.com and Topo.ly has quickly become one of my top applications that helps my drive sales."
From Easy Mapping to Exceptional Visualization
To reach its goal of simplifying data visualization Topo.ly reaches out to all organizations where data is of high value. It offers simple online mapping that starts with creating maps for free in just a few minutes. By following the few steps below, new users can start making sense of their own data gathered from Microsoft Excel spreadsheets.
1) Log in to Topo.ly (Interested individuals can register in just a few seconds).
2) Go to "My Maps."
3) Click "Create New Map."
4) Name your map.
5) Add "New Location Set."
6) Copy the data from spreadsheet. Make sure to include the headers. Headers can be:
Name
Address
City
State
Zip Code
Other pertinent information
7) Paste them to Topo.ly.
8) Click "Finish"
9) Wait for the site to geocode the map
In just a few minutes, the users can step into a one-of-a-kind online mapping experience where their data is visualized in an instant. By using this method, many company owners monitor how they run their business. Indeed, Topo.ly greatly helps many companies stand above their competitors. Moreover, it serves as guide to ensure business success.