Lost van Gogh from WWII Found in New Suspense Novel
The Russian van Gogh is the latest from Emmy® Award nominated writer / director Robert Child.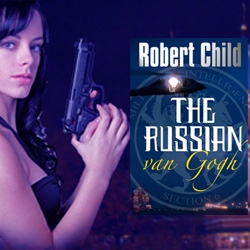 Wake Forest, NC, February 13, 2013 --(
PR.com
)-- A secure Russian government warehouse is breached in a violent raid. Chechen terrorist Sergey Karpov now possesses a priceless van Gogh the world thought lost in an allied bombing raid in 1945.
Seized in a German museum outside Berlin by the Red Army Trophy Brigade during the last chaotic hours of WWII the masterpiece is part of a hidden stash of billions of dollars worth of stolen art the Russians want kept secret.
Karpov's plans to extort the Putin administration are met with an iron fist and he turns to the world stage releasing a shocking tape to the BBC declaring he will burn the van Gogh and other paintings if his ransom is not met.
The Russian van Gogh is a thrilling international race against time as the van Gogh Museum in Amsterdam posts a $10 Million dollar reward for the captured painting's return. And British Secret Service along with WWII stolen art recovery experts, The Monuments Men, all join the hunt.
The Monuments Men, founded at Harvard University, dispatches Art History Professor and Forensic Art Detective Riley Spenser, the world's leading expert on the paintings of van Gogh to authenticate the painting. If it is truly the lost van Gogh from WWII it's value could reach $300 million. Riley teams with British MI6 Agent, Justin Watson, and together speed to Moscow and eventually to the most dangerous city in Russia to find the painting.
From first page to last the story is a gripping intelligent page-turner filled with intrigue and peppered with cinematic action that jumps off the page like a major motion picture.
A fast-paced ride, The Russian van Gogh, is the latest thriller from acclaimed Writer / Director and Emmy® nominated Filmmaker, Robert Child.
The Russian van Gogh is available in both print and ebook formats.
Child's other books include Blood Betrayal (ISBN: 9781476429366), How Canada Won The Great War (ISBN: 9781476398891) and many others. Check out his website for more titles: http://www.robchild.net
Book Information:
The Russian van Gogh
Author: Robert Child
ISBN: 978-1482335538 (print)
ISBN: 9781301209774 (ebook)
Published: February 2013
About The Author:
Robert Child is the winner of more than 25 writing and directing awards and is one of only a handful of directors whose work has screened in the Congress of the United States. Silent Wings debuted on Capitol Hill on the day of its release in 2007 and became the catalyst for New York Congresswoman, Carolyn McCarthy's, House sponsored, Joint Resolution honoring America's WWII glider pilots.
He has worked with several Hollywood "name" collaborators. Hal Holbrook narrated Silent Wings, which featured Walter Cronkite and Andy Rooney. Civil War theatrical director, Ronald F. Maxwell, (Gettysburg, Gods & Generals) narrated his Lincoln and Lee at Antietam: The Cost of Freedom. Corey Reynolds (The Terminal, The Closer) narrated The Wereth Eleven and actor Dale Dye, Stephen Spielberg's Senior Military Advisor on Saving Private Ryan and Band of Brothers narrated the USS Franklin: Honor Restored, film in 2011.
For more information, review copies, or interviews please contact Lisa Gage at Hue Entertainment.
Contact
Hue Entertainment
Lisa Gage
(215) 266- 8426
http://www.huentertainment.com
Author's website www.robchild.net

Contact