LuxeGloves Designed and Hand Made in Italy
Gorgeous, Hand Made Soft Italian Leather Gloves. Best Price and Best Quality and all Hand Made in Italy.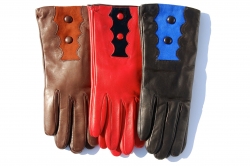 Naples, Italy, February 14, 2013 --(
PR.com
)-- ​For centuries Naples has been the home of world-class and world renowned artisans of every artistic specialty. Whether jewelry, shoe making, leather work, textiles, umbrellas, marble, mosaics, ceramics or coppersmiths, Naples has been where artistic talent is passed down from generation to generation – mother to daughter, father to son. Entire neighborhoods' economic survival are based on one artistic expertise. Modern industrial techniques and globalization now threaten what has been the economic lifeblood of this beautiful southern Italian city for more than a thousand years. Products that look like the real thing at a distance have flooded markets all over the world. It looks like marble – but it's plastic. It looks like its handmade, until you wear it twice. That "hand stitching" at closer inspection is nothing but a product of an industrial press.
LuxeGloves, so named because these wonderful, luxury, handmade Italian leather gloves were how this wonderful world of artisan craftsmanship in Naples was discovered.
Signore Enzo has worked for more than sixty years with dozens of artisans crafting a world-class product the old fashioned way. No globalization here.
LuxeGloves has recently expanded their line, as they find other products, designed and produced in small shops in and around Naples. Handmade leather belts, Italian leather bags, purses and wallets, beautiful handmade women's clothing and exquisite handmade jewelry are now part of who they are.
LuxeGloves is committed to providing those with discerning taste, a desire for authenticity, and excellent pricing, the opportunity to enjoy timeless quality in what they wear. LuxeGloves is your premier Italian fashion online shop.
Contact: Kerry Howard
Tel: 512 607 6342
Email: luxegloves@gmail.com
Website: luxe-gloves.com
Contact
Luxe-Gloves
Kerry Howard
512 607 6342
luxe-gloves.com

Contact