Indiana Hoosiers Select Sportexe Turf for John Mellencamp Pavilion
IU Football Chooses Sportexe for Indoor Practice Facility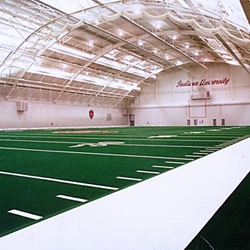 Indianapolis, IN, August 03, 2007 --(
PR.com
)-- When Indiana University made the decision to install the latest synthetic turf system technology inside its state-of-the-art indoor football practice facility, the Hoosiers looked no further than Sportexe to cover John Mellencamp Pavilion and help bring new enthusiasm to IU's once prominent athletic program.
Sportexe, a global leader in the synthetic turf industry, is now underfoot of not one but two Hoosiers sports programs. Indiana also chose Sportexe synthetic turf for its brand new field hockey facility as Sportexe has a synthetic turf system specifically designed for the unique criteria of each individual sport.
Dedicated April 12, 1996, the Mellencamp Pavilion, named for singer/songwriter John Mellencamp, who provided the lead gift for the $6 million project. A resident of Bloomington, Mellencamp has long been a fan of the Indiana University athletic program.
"From a safety standpoint, we think it's going to be really helpful to us," said Jack Garrett, IU associate athletic director for facility management. "It's something we've needed."
Mellencamp Pavilion is over 100,000 square feet and provides a premier year-round training space for almost every varsity sport. The Sportexe synthetic turf system ensures safe footing for the practice of field hockey in addition to soccer, football, baseball, softball and other varsity sports. The playing surface is a regulation football field with ample room on the sidelines to accommodate virtually every other sport within the IU athletic program. The pavilion's ceiling height accommodates kicking, as well as batting and golf practices.
"The commitment that the administration has shown to the football program is amazing, especially starting with the facilities," said new IU head coach Bill Lynch, who succeeds Terry Hoeppner who lost his battle with cancer in June. "Recruits are coming on campus right now and seeing the Mellencamp Pavilion complete with the new (Sportexe) surface – that is really big to kids."
The Hoosiers football program looks to improve on a 5-7 record from last year and open the 2007 season at home against Indiana State on Sept. 1.
Sportexe can also be found underfoot of the NFL's Baltimore Ravens, New Orleans Saints, San Francisco 49ers and Buffalo Bills, along with the NCAA's Cal-Berkeley, Alabama, Southern Mississippi and Pittsburgh. Sportexe is the official turf provider for the AFL, af2, Major Indoor Soccer League and National Lacrosse League.
• Sportexe •
About Sportexe:
With offices in Ontario, Texas, and Georgia, Sportexe is dedicated to delivering top notch synthetic turf solutions to each and every client. As an acknowledged leader in the industry, the U.S Company prides itself on delivering products that feature the latest in innovation and superior engineering with an emphasis on research and development. Currently Sportexe is the exclusive or official turf system supplier for The Arena Football League, (AFL/AF2), National Lacrosse League (NLL), Major Indoor Soccer League (MISL), U.S. Indoor Soccer Association, and the National Field Hockey Coaches Association (NFHCA). Additionally, Sportexe partners with the National Interscholastic Athletic Administrators Association (NIAAA). Sportexe has also made tremendous progress in the international scene by securing relationships with both the International Hockey Fédération (FIH), and the Federation International de Football Association (FIFA).
For additional information and an inside look at our cutting-edge products, please visit www.sportexe.com
###
Contact
Sportexe
Nic Vlcek
512-744-0342
www.sportexe.com

Contact