Prudential Americana Group Announces 2012 Sales Results
Today Prudential Americana Group had its 2012 general sales event where it recognized its 2012 top real estate individuals and teams in Nevada and throughout Prudential Real Estate's North American franchises.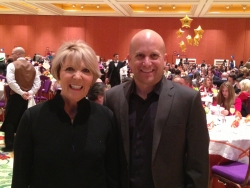 Las Vegas, NV, March 01, 2013 --(
PR.com
)-- Today Prudential Americana Group had its 2012 general sales event where it recognized its 2012 top real estate individuals and teams in Nevada and throughout Prudential Real Estate's North American franchises. The company, which operates the largest Prudential franchises in both Nevada and Arizona, increased its volume by more than 20% year over year completing nearly $2.4 billion in real estate sales volume for 2012.
"The types of transactions posted in Las Vegas varied significantly from the previous year," said Mark Stark, CEO of Prudential Americana Group and Americana Holdings. "In 2011, nearly half (48%) of our Nevada sales were bank owned properties. In 2012, that made up only 27 percent of sales. Short sales made up 36 percent of sales, up from 24 percent the previous year, and traditional sales comprised 37 percent, up from 28 percent, of our total sales volume."
"Though we might see an uptick in bank-owned properties hitting the marketplace in 2013 it will not be significant," said Stark. "The great news is we will continue to see a healthy rise in traditional sales throughout 2013 and expect traditional sales to exceed 60 percent of total sales this year. We also expect to see a consistent flow in short sale transactions due to the extension of the federal Mortgage Debt Relief Act."
Stark predicts fewer units will close with higher sales prices in 2013. "We expect continued investor demand in Las Vegas as long as rental demand continues and cash flowing issues do not arise."
Stark's predictions were met with enthusiasm at Prudential Americana's annual sales event, held today at the Wynn Resort. Approximately 600 people attended for the announcements of its top sales professionals and teams during 2012.
Among the announcements were three Prudential teams that will be recognized next month at the national Prudential convention among the top ten in the country. The McGarey Group made Prudential Real Estate's top ten list for commercial sales, The Napoli Group for residential units sold and Shapiro & Sher Group for residential volume. These three teams will be recognized as one of the top ten among thousands throughout Prudential Real Estate's North American network.
Prudential Americana Group's Top 10 individual sales executives and teams in 2012. The Top 10 individuals were:
#1 – Avi Dangoor
#2 – Billy O'Keefe
#3 – Wayne Corbeille
#4 – Mark Weinberg
#5 – Rochelle Vannoy
#6 – Len McGuirk
#7 – Nichole LaVigne
#8 – Jana Shore
#9 – Lianna Alvarez
#10 – Jim Tennant
The company's Top 10 Teams for 2012 were:
#1 –Shapiro & Sher Group (this is the 6th year the team has received this designation)
#2 – The Tonnesen Team
#3 – The Napoli Group
#4 – The Carver Team
#5 – Brown Blankfeld Group
#6 – The Craig Tann Group
#7 – The Mullin Group
#8 – Ellen Fahr Group
#9 – The Brian Wedewer Team
#10 – The McGarey Group
Ernesto Ibarra was named Employee of the Year and The Craig Tann Group was again recognized as the company's top contributor to the non-profit Sunshine Kids Foundation. Prudential Americana Group supports dozens of charitable organizations including Opportunity Village, the Susan G. Komen Foundation and the Sunshine Kids Foundation. Hundreds of real estate sales executives also donate to individual charities and give a percentage of their earnings with every home sale to non-profit organizations, amounting to hundreds of thousands donated over the years.
Americana Holdings is the sixth largest Prudential Real Estate franchise in North America, which includes both Prudential Americana Group in Nevada and Prudential Arizona Properties. Combined, this award-winning company has 21 offices and 1,900 real estate sales executives. It is home to some of the country's top-selling real estate professionals and has been recognized by JD Power and Associates multiple times for its commitment to customer service.
Prudential Americana Group was ranked #20 in RIS Media's 24th Annual Power Broker Survey of the country's top 300 real estate companies http://remag.rismedia.com/t/14873.
In 2012 Prudential Americana Group was named a "Best Place To Work" in Southern Nevada and was included in the prestigious Inc. 5000 listing of America's top private companies. Prudential Americana Group also houses a fully accredited real estate school with free Continuing Education classes every month. For more information visit www.americanagroup.com.
Contact
Prudential Americana Group
Sarah Thornton
702-796-7777
http://www.americanagroup.com

Contact