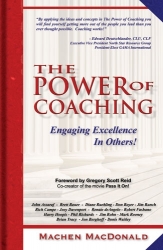 Grass Valley, CA, August 05, 2007 --(
PR.com
)-- Premier business coach Machen MacDonald of the ProBrilliance Leadership Institute has become a #1 best selling author with his new book - The Power of Coaching… Engaging Excellence in Others! The book hit #1 in several categories on Amazon.com. MacDonald, the founder of ProBrilliance Leadership Institute located in Grass Valley, CA and a certified business and life coach has compiled a wonderful resource full of both wisdom and strategy to help managers and leaders become better at coaching their people for desired results.
MacDonald had the idea for the book in January of this year and in three months by March the book was actually published. In just four more months the book hit #1. MacDonald indicated, "I wanted to create a book that could be an easy to use resource for people that have the responsibility of coaching but no formal training in coaching. Many managers are charged with coaching their people but they have no idea how to really hold people accountable or set up proper environments for getting results. This book contains an abundance of tips and strategies to make life a lot easier and more productive when it comes to getting results through their people."
The 180 page book not only contains the wisdom of Machen MacDonald but also the insights of several other coaches and business leaders including John Assaraf from the movie The Secret. Other notable contributors include sales and management guru Brian Tracy, high performance achievement consultant Denis Waitley and Americas Foremost Business Philosopher Jim Rohn.
To order your copy of The Power of Coaching and start getting results immediately logon to www.ThePowerOfCoaching.com or call (530) 273-8000.
Machen MacDonald also leads seminars and workshops showing business owners and sales professionals how to formulate and execute effective One Page Business Plans and become much more proficient in managing time.
###