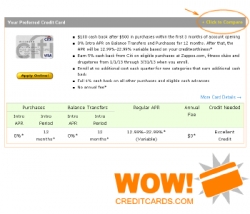 Plymouth, MI, March 06, 2013 --(
PR.com
)-- Choosing a credit card can be a daunting task. Consumers are presented with a wide array of choices - from low APR to various types of reward credit cards. There are literally dozens of issuers with hundreds of credit card offers to choose from! Fierce competition means excellent incentives are available to consumers, but finding the best opportunities will take diligence and research. The new "Card Compare Tool" at
WOW! Credit Cards.com
simplifies the process and makes it easier than ever to compare credit card offers.
On most websites, credit cards are categorized by issuer, by credit level or by feature, such as: 0% APR, balance transfer, low interest, cash back, airline miles and more. Although this makes it easier to sort through offers, there are still dozens of credit card choices available and visitors are left scrolling back-and-forth between pages or writing down details to compare the most important aspects of each card.
With the new "Card Compare Tool" at WOW! Credit Cards.com, the
credit card comparison
process is simplified. Not only can visitors narrow their search by choosing from a wide selection of issuers and features, but they can limit their search even further by selecting individual offers for side-by-side comparison. After sorting through dozens of offers from the largest credit card providers, visitors simply hit "Click to Compare" to add cards to the new Card Compare Tool. Once a visitor is ready, they can view their selected offers in an easy-to-follow format and compare the features of each offer in one convenient location.
WOW! Credit Cards' new Card Compare Tool is designed to make credit card comparison fast and easy. Visitors can find detailed credit card information throughout the WOW! Credit Cards website and then use Card Compare Tool to display only the most important and relevant features, including introductory APR, ongoing rate, annual fee and other program details. No need to scroll back-and-forth between pages or write down anything - it's all accessible on one page for fast and easy comparison.
Established in 2004, WOWCreditCards.com is one of the Web's top resources for credit cards. Find detailed analysis, helpful tools and a complete list of offers from credit card issuers such as: American Express, Barclaycard, Capital One, Citi, Discover and more.