Grand Opening of The Dazzling Dog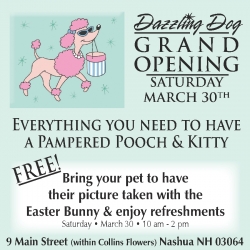 Nashua, NH, March 16, 2013 --(
PR.com
)-- Welcome to The Dazzling Dog of Nashua, located at 9 Main Street, Nashua, NH for trendy owners and stylish pets.
The Grand Opening of The Dazzling Dog will be Saturday, March 30th. The Dazzling Dog is home to the hottest trends in canine couture to enter Nashua! Keeping up with the latest pet fashions by seeking out the latest designer dog apparel and most unique designer dog accessories available. The Dazzling Dog has fancy dog collars, leashes, and the best in canine couture to outfit your dog to the K-9's. The Dazzling Dog will also carry the best in dog food by Blue Buffalo and ProPlan, as well as paws-itively gourmet treats. On March 30th stop by with your furry friend for a complimentary photograph with the Easter Bunny.
Tracy Bennett, owner of Zoe Marketing in Nashua, has been aspiring to open a dog boutique for years. The big box stores are wonderful, but Tracy really desired to have unique funky items for her beloved dog. Tracy's fiance, Peter Collins, owner of Collins Flowers, agreed to share his space to give The Dazzling Dog a home.
Tracy believes every furry friend deserves the best; so why not pamper him or her with a cozy designer dog bed or an adorable designer dog sweater? The Dazzling Dog understands that you are trendy and stylish, and your best pal should be as well! Pamper your pooch with the amazing variety of pet products The Dazzling Dog provides.
Give your dog that special something that will separate your pal from other pets. The unique selection of designer dog clothes, collars, bling, carriers, bowls, beds and more. Dazzling Dog will not only let your doggy buddy know how much you care (all dogs loved to be spoiled), but will outfit your pet with a unique style that matches your own.
The Dazzling Dog will also be carrying a unique furniture line from POLart, as well as other décor.
Contact
The Dazzling Dog
Tracy Bennett
603-459-3060
www.dazzlingdognh.com

Contact