Konecranes' New XN Electric Chain Hoist is Cost-Effective and Reliable
The New XN Chain Hoist is the Cost-Effective and Reliable Solution for Light to Medium Hoisting Needs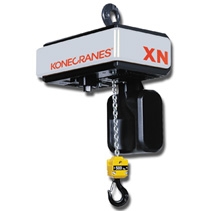 Springfield, OH, August 08, 2007 --(
PR.com
)-- The new XN electric chain hoist from Konecranes, the world's leading manufacturer of electric chain hoists, is a compact, efficient hoist combining reliability with style, safety with performance, and high technology with modern design. The XN hoist is the most cost-effective and reliable solution for light to medium hoisting needs. Packed with benefits, the XN hoist features technical excellence and quality, unmatched versatility, safety and reliability, and a lifetime support system.
Each XN hoist is extensively tested before delivery, undergoing a dynamic load test using 125 percent of its rated capacity. The hoists go through overload and reduced voltage electrical tests as well as operational tests. Each hoist is CSA certified and meets or exceeds international standards, including ASME B30.16.
The XN hoist is ideal for a wide range of applications. Versatility features include a manual or electric trolley with one or two-speed hoisting options, a 1/8 - 5 ton (125 - 5000 kg) capacity range, and a standard lift height of 10 feet (3 meters) with other lifts available. The five and six pocket chain wheels are heat-treated and ground to a high tolerance, providing especially smooth lifting. The load chain is electro-zinc plated, heat-treated, and has a high tensile strength. The chain is also calibrated for chain hoist use. The lifting hook is made of high grade steel and is provided with a safety latch.
Maximum reliability and safety features on the XN hoists include high quality disc brakes, optional upper and lower limit switches, and a friction type torque limiter that is integrated with the brake; ensuring the load is always stopped when the control button is released, even if the torque limiter slips (available on models XN1 to XN10). The electric control panel encloses the electrical components such as the contactors, transformer, terminal strips, etc. while providing easy access for maintenance. The hoist is epoxy painted for optimal protection and constructed from pressure cast aluminum for weight reduction. Efficient heat dissipation is achieved via its ribbed design.
XN hoists include a 2-year warranty, consumable parts excluded. Konecranes is committed to satisfying the needs of its customers for innovative, reliable, and competitive products. The international network of service and support engineers of Konecranes is available to maximize the uptime of investments.
The XN hoist is a forerunner in electric chain hoist technology. Additionally, the XN hoist comes in a variety of available options. There is a hook suspended fixed hoist; operating in a stationary position, a push trolley; allowing the load to be pushed manually, and a motorized trolley; with a 1-speed, 2-speed, or step-less trolley travel designed to be used on I-beam or profile beam sections.
Standard features include a zinc-coated, galvanized load chain, a chain bag, pushbutton pendant with 6 foot control cable, 2-button pendant for fixed hoist and push travel trolley, 4-button pendant for power travel trolley, power supply (208, 230, 460, 575 V3ph 60 Hz), hoisting limit switch, hoisting motor with thermal protection, low voltage contactor control (115 volts), emergency stop connected to main contactor, and NEMA 3R protection.
Available options include variable traveling speed control, thermal protection of the traveling motor, NEMA 4 protection, a traveling unit limit switch, and various electrical options.
About Konecranes Americas
Konecranes is a world-leading group of lifting businesses, serving manufacturing and process industries, shipyards, and harbors with productivity-enhancing lifting solutions and services for lifting equipment of every make. Following $2 billion in annual sales in 2006, Konecranes now has over 7,500 employees at more than 370 service locations in 41 countries, including 100 branches in North America. For more information, call (800) 934-6976 or visit
www.konecranesamericas.com
.
###
Contact
Agency Contact:
Steve Kirschner
513-421-1169
www.kciamericas.com

Contact