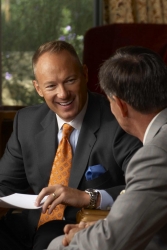 San Diego, CA, April 02, 2013 --(
PR.com
)-- Michael Bradley, President and CEO of Bradley Wealth Management, joins Non-Profit Educational Speaker Bureau to help end financial illiteracy one community at a time.
When most of us think of April, the dreaded tax day, April 15 comes to mind. If not, maybe April fool's day on the 1st. Whatever strikes your fancy, most Americans are not even aware that President Obama has officially declared April as National Financial Literacy month.
One organization, The Society for Financial Awareness (SOFA), is doing it's very best to let Americans know just how vital it is for us to be in the know and empowered to take action with their very own finances. SOFA's founder and CEO, Jim Chilton, leads his army of Financial Professional s – Advisors, CPAs, Estate Planning Attorneys, Realtors, Mortgage Brokers, Credit Repair or Specialist, and Health and Wellness Professionals all in a daily quest to end financial illiteracy in their communities across the nation.
"Most people take better care of their pets than they do their own finances," quips Chilton. "Do you realize less than 3% of Americans have any kind of financial plan? Is it any wonder in looking at our government at the city, state, or national level that America is in such a mess?" Chilton goes on exclaiming, "Do you realize in almost every state in America – financial literacy courses for our children are Not required by most school districts?" That's an interesting, as well as alarming fact.
This very message about most Americans lacking self-discipline & financial awareness, and the very sordid tale of increasing debt upon most American families is not only crushing to individuals but is spreading like a virus. Michael Bradley has decided to join against financial discomfort in the San Diego, CA and Phoenix, AZ area.
It's organizations like SOFA, and members like Bradley, which are reaching out into their member's communities, conducting no cost, informational workshops at companies, churches, and organizations that are beginning to take hold and are bringing the "financial where-with-all" to groups of interested attendees.
"To attend a workshop – not a sales event – conducted by a seasoned professional in their particular discipline, at no cost to the attendee, is a terrific way for most people to become enlightened as well as have an enjoyable time learning about how to do money right in their lives," so says SOFA's leader.
Chilton goes on stating, "The entire mission of SOFA, in April, is to get the word out, in every possible way, so most Americans can realize financial literacy is not just for people with money. Knowing how to manage one's cash, control your debt, and make the right choices, now, will absolutely assure one later, that their future will be better."
April - America's month, for all of us to take a moment and realize just where we are financially speaking. Are we aware? Are we educated? SOFA can help. Michael Bradley has joined the fight, so should you.
For more information on SOFA contact Amanda Lopez at 858-268-7091. If you would like to schedule free SOFA workshops in San Diego, CA or Phoenix, AZ at your company, group, or organization please contact Stephanie Manos at (619) 512-4100.