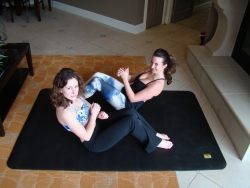 Aurora, CO, April 04, 2013 --(
PR.com
)-- Pogamat, the first durable oversize yoga mat and exercise mat. There is no denying that there are millions of people who like to work out at home and have at least a couple workout dvd's in their library. Working out at home is convenient, saves time and money but how do you get the best workout possible from your living room?
The problems with working out at home are where do you workout and what to workout on. Instead of doing push ups, lunges, and jumping jacks directly on the carpet or hard floor, millions of people use a yoga mat. A yoga mat, for many of us, is too narrow and flimsy for a good workout. The narrow mat size limits the type of workouts you can do and most mats are thin.
Pogamat, is the solution to working out at home. People will benefit from having enough space for up to two people to workout. The dense material is durable and won't tear or peel and allows all workout routines. It can be used for at home workouts or in fitness classes. It rolls out in seconds, fits easily in multiple locations, and is easily portable.
For more information about Pogamat, please visit: http://www.pogamat.com.