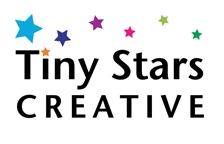 Mukilteo, WA, April 09, 2013 --(
PR.com
)-- Tiny Stars Creative, LLC is excited to announce the start of their new Creative Studio located in Mukilteo, WA. Dawn Anderson, founder of Tiny Stars Creative, LLC, started the firm to help small to medium size businesses in the greater Seattle area to maximize their marketing potential.
According to Pew Research Center's Internet & American Life Project, 81% of Americans use the Internet to do activities like searching for information on hobbies or businesses, as well as interacting on social media websites. 67% of Internet users utilize some form of social media.
"As more consumers utilize social media and mobile technology to research products and services, small business owners need to not only establish but maintain their online presence," explains Anderson. "Our team of professionals can manage and maintain their presence so small businesses can focus on their areas of expertise.
"Many small businesses are finding that their DIY approach to marketing isn't working," said Ms. Anderson. "They need a professional, cohesive approach that combines online and offline techniques, including social media. This process can be very intimidating for the novice and that's where we come in."
Tiny Stars helps companies develop high impact creative solutions that provide a cohesive brand both online and offline.
Anderson, who designed her first website back in 1996, has been developing websites and online marketing for clients since the web's infancy. While she has significant experience working on projects for large corporations, she prefers working with smaller businesses and entrepreneurs.
Anderson states, "There is something so very exciting about working with a smaller firm and watching it grow. It provides you with a sense of accomplishment to watch them shine."
To learn more about Tiny Stars Creative, LLC and the services they provide, visit their website at www.tinystarscreative.com.