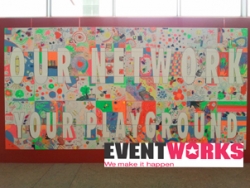 Dublin, Ireland, April 09, 2013 --(
PR.com
)-- EventWorks, an
Event Management company
based in Dublin and operating all over the country, has been designing and managing team building events for well over 15 years. The company specialises in different, non- traditional and
customised team building events
tailored to the needs and specifications of the every client.
"As such, we often need to create and design events from scratch based on our clients' briefs, company values or drive home message that they want to get across as effectively as possible," explains Kim Gavin, an Event Manager at EventWorks.
A few months ago, the team were approached by a large telecommunications company enquiring about an event which would allow them to spell out their new values, give them a tangible memento from the day but also get everybody working together towards the same goal.
The Account Manager for this client back then brain stormed with the team to generate ideas that would meet the above requirements. The event was also going to be for a group of 400 people and thus needed to be something impactful and suitable for large numbers.
What the team came up with was a creative challenge where each team was provided with a large custom designed board and a selection of art & craft materials. They were then asked to design and decorate their boards based on their own vision of the company. There was only one simple rule they had to follow, they had to leave certain parts of the boards blank.
The event took place in a Dublin conference venue a few weeks later. The group took part in their creative challenge prior to the conference so once it was over the attendees walked out and there was a surprise waiting for them. Their canvases were all put up together on a huge display, like a jigsaw, spelling out the company's new values, the group never knew there was a secret message to be revealed.. It gave the day a great finale, a drive home message for the participants and something that they could bring back to their offices (which we did).
"It was great for them to see how their work separately, on different teams, could achieve something much bigger, much greater if there was a vision behind it. Literally. And this is why it works so well, it symbolises the greater goals that we can only achieve working together," explains Kim Gavin who was managing the event for EventWorks on the day.
Since then EventWorks has created similar events for numbers as big as 500 and as small as 12."It always gets people excited and talking about it," clarifies Kim.
The company has also designed other events which, even with completely different activities involved, have the same purpose and impact – to get them working all together for something bigger.
Some other collaborative events based on the same idea include:
Team MTV – a creative video making challenge where participants record different sections of the same song and all these are put together and edited at the end into one song with hilarious and high impact results.
Planetary Pipeline – a themed hands on challenge which can only be completed if teams work together – they all fail or succeed as a group.
People Power – a fun energiser event where participants spell out different key words with their bodies. The shots taken from height can then be used for various branded materials.
"Most team building events today do have a competitive element to them. It's taken as a given, participants are split into teams and while team members collaborate within their teams, they also compete with the other teams at the same time. How about turning things around? Giving them the chance to contribute to something bigger, to actually realise the importance of team work?" says Ronan McCabe, managing Director of EventWorks.
He adds: "Even if a bit of a competition keeps participants on their toes and gives the event an edge, we find that collaboration has much greater knock on effects in terms of team building and the message is clear too…"