The 43 Trees Project Sponsors Interactive Earth Day Walk
The 43 Trees Project developed life narratives of 43 trees to honor the fallen trees of Super Storm Sandy.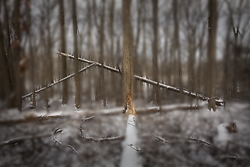 Edison, NJ, April 11, 2013 --(
PR.com
)-- The 43 Trees Project (www.43trees.com) will sponsor an interactive Earth Day walk in Roosevelt Park, Edison, New Jersey on April 21, 2013 at 1:00 pm to honor trees felled during Super Storm Sandy. The one mile walk past many of the trees, will include live readings and QR (Quick Response) Codes that will link your smart phone to audio and video media to augment the 43 trees walk.
Having walked in Roosevelt Park on a regular basis for years, artists John Craig and Deborah Sperry were saddened to see the damage done to the park trees by Super Storm Sandy.
While discussing the storm several weeks later over lunch, the idea of honoring the lost trees came up. It was decided that in celebration of the upcoming 43rd anniversary of Earth Day on April 22, 2013, we would photograph and then create a life narrative for 43 of the fallen trees.
"I had been thinking about the loss of these trees," said John Craig. "Somehow it seemed like I lost of some long time friends. So, we decided to create something that would remember Super Storm Sandy, memorialize trees and celebrate the 43rd year of Earth Day.
Other artists and writers were invited to contribute to the project. "Some wrote about the trees origins, some about their demise, some spoke of the trees strengths and some tell of their fragility," said Deborah Sperry. The narratives and poems by the other artists bring texture and their personal points of view to the project while addressing loss and celebrating life."
The 1.4 mile walk is of moderate difficulty and will pass the locations of the 43 trees highlighted in the project.
John Craig and Deborah Sperry are longtime residents of Edison, New Jersey. Mr. Craig has a BFA in photography and Ms. Sperry is currently pursuing her BFA in sculpture from New Jersey City University.
Contact
The 43 Trees Project
John Craig
732-754-6713
www.43trees.com

Contact