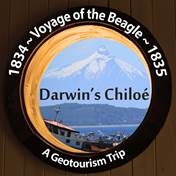 Reno, NV, April 18, 2013 --(
PR.com
)-- USA global travelers seeking exciting trip themes have a new venue to explore in the enchanting Patagonia region of Chile, Isla Chiloé. Driving home a call for a bigger experience – Don't be a mere tourist, be a Geotourist,- ToMarket's Geotourism Journeys announced today a partnership with Chile's Darwin's Trails experts to offer a full seasonal schedule of their island vacation exploration itinerary.
Surrounding Isla Chiloé - South America's second largest island - is an archipelago with a history by some estimates spanning 14,000 years of human habitation and a long study by Charles Darwin during his Voyage of the Beagle. Darwin's journal entries from 1834 to 1835 serve as a portal that opens into an immersion experience within the surviving indigenous cultural and environmental enchantments.
Guests enjoy the beauty of preserved Valdivian rain forests, remarkable coastline, endangered flora and fauna, UNESCO World Heritage church sites predating Darwin's visit and, most certainly, the Chilote people. "There is also something very attractive in the simplicity and humble politeness." - Charles Darwin said of Chiloé customs still displayed by the inhabitants (February 43, 1835).
Whether it's riding horseback along gorgeous white sand beaches, kayaking along the waterways visited by Darwin or engaging with the local farmers and residents at their agritourism and ecotourism locations, the tour brings the past into the present as part of a sustainable tourism itinerary designed to preserve while sharing. Visitors also get a chance to learn what modern development and challenges face this historic place of natural wonders and charming people today. Choices are offered allowing for rigorous or more sedate exploration and all guests (limit of 12 per tour group) partake of glorious Chilote cuisine that includes the famous evening extravaganza of a genuine seaside curanto.
The recent release of two geotourism attraction web sites – Darwin's Chiloé and ToMarket Geotourism Journeys – display fascinating information about tour points and related Isla Chiloé tourism news, including reports about the Blue Whale Watching opportunities offshore that are gaining worldwide attention.
"A trip worth taking while the past is still present. A chance to experience an island culture going through the shifting directions of its future. The island had changed so much, therefore, I was happy to follow Teri and Ken's footsteps along with Darwin's journals. I loved Chiloé in 1978 and I can say the same in 2013," shared Tracy Grant from Santiago, Chile.
Geotourism has gained attention through National Geographic Map Guide projects at National Park locations around North America. International tourism venues and map guides are now also being packaged to satisfy the demand for active tours that deliver a more interactive experience of exotic, geographically appealing places, peoples and ecosystems.
PR Contact:
Contact:
Teri Graf-Pulvino
(650) 346 1715
Teri@ToMarket.net
www.tomarket.net