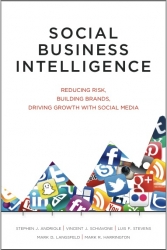 Fort Washington, PA, April 25, 2013 --(
PR.com
)-- ListenLogic, a pioneer in advanced social intelligence for leading corporations, has commissioned the publishing of Social Business Intelligence: Reducing Risk, Building Brands & Driving Growth with Social Media (hardback, 191 pgs, Ascendigm Press, $24.95), the industry's first comprehensive executive guide to implementing a social business intelligence across an organization.
Today, advanced social intelligence is delivering businesses detailed, actionable insight on shoppers, consumers, markets, influencers, brands and competitors like never before. With the exponential growth of consumer commentary across mainstream social networks and niche open-source channels, like blogs and forums, social business intelligence is now a "big data" challenge requiring massive, real-time processing capabilities and concept modeling beyond the limitations of keyword lists and data samples.
Social Business Intelligence provides the first comprehensive business guide to unlocking and leveraging social business intelligence across the enterprise. In fact, this book serves as an executive guide exploring social business intelligence with analysis and case studies on leading brands like Apple, BMW, Disney, The Daily Show and Wisk, providing recommendations on how businesses can effectively implement an advanced social intelligence strategy to set strategy, drive innovation and make decisions.
Early reviews of the book include:
"This book is a must read for any business executive or market researcher."
-Jerry Wind, The Lauder Professor, The Wharton School
"The case studies are a must-read for executives to understand the power of social media, the deep insights and intelligence to be gained through SBI…"
-Barbara Lawler, Chief Privacy Officer, Intuit
"The analysis and research in this book provides the practical hows and whys for managers to effectively leverage social business intelligence."
-David Larcker, James Irvin Miller Professor, Stanford Graduate School of Business
"…this book shows you not only case studies of how social business intelligence can move brand forward, it gives you a framework for doing it yourself."
-Jason Falls, Founder, Social Media Explorer
A select number of complimentary copies are reserved for qualified professionals in Marketing, Brand, Consumer Insights, Business Intelligence, Market Research and Product Innovation. If you're interested in requesting a complimentary copy to learn more about strategically implementing social business intelligence for your organization, visit http://ListenLogic.com/social-business-intelligence/
About ListenLogic
ListenLogic is the leading social business intelligence provider delivering real-time detection of threats and opportunities and deep inspection analytics on markets, consumers and competitors extracted from the open social online universe. The company's advanced intelligence platform is built on AKUDA LABS' proprietary PulsarTM streaming big data platform, which is among the fastest, most efficient and cost-effective streaming big data systems available, processing 1+ billion streaming classification operations per second (SCOPS). Leading corporations, including dozens of Fortune 500 organizations, across a variety of industries, including pharmaceuticals, food and beverage, media, entertainment and consumer goods, rely on ListenLogic's solutions to gain unmatched, strategic insight and real-time, actionable alerts from deep within the chaos of social media.