Mother's Day Means Big Spending with Unique and Personalized Gifts at Catalogs.com
On the holiday that inspires higher spending than Valentine's, Easter, Father's Day and other big shopping days, technology makes gifts personal for mom.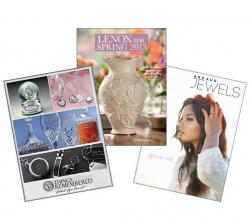 Fort Lauderdale, FL, May 06, 2013 --(
PR.com
)-- Gift and collectibles retailers at Catalogs.com, including Lenox, Things Remembered and Arhaus Jewels, report that sales are brisk for Mother's Day 2013. Jewelry and accessories are popular choices for mom again this year, and shoppers are looking for styles that are unique and trendy. Gifts that are popular year-to-year continue to sell well, especially when they are personalized using new user-friendly technologies.
"Of course, moms love the thought behind any gift they receive on Mother's Day, from breakfast in bed to fancy jewelry," says Leslie Linevsky,
Catalogs.com
co-founder. "Standbys like coffee mugs and keepsakes are always good gifts, but when they are the hottest 'new' version of an old favorite, or personalized with a heartfelt message, they are even more appreciated."
At Lenox, art glass tabletop gifts, vases, bowls and figurines are popular Mother's Day gifts. "A new gift trend is the travel mugs decorated with motifs from our china patterns," states Jennifer DiBenedetti, Senior Manager of Strategic Marketing for Lenox. "And of course, personalized items, especially jewelry, are popular this Mother's Day."
Things Remembered, a popular destination for gift shoppers at Catalogs.com, has rolled out a tablet application that uses technology for customers to personalize gifts. "Kids can create a really unique gift for mom by using our iEngrave app and a tablet to transfer their personal message or artwork from the screen onto an amazing gift for mom. Photo albums, iPhone cases and other tech accessories, or even keychains, can be transformed into a gift that is 'handmade' for the 21st century," says Amy Myers, Vice President of Creative Services.
Mother's Day shoppers are buying the same types of gifts, but they are looking for new styling. For example, jewelry and accessories are a popular
gift category
for mothers, but trending fashions are stepping up as top sellers. "We are noticing a lot of gift buyers are choosing the hot new wrap bracelets and new styles in high quality handbags for mom," says David Jones, Director of Web Marketing at ArhausJewels.com. "Traditional items like rings and necklaces are also popular this year."
Even with a touch-and-go economy, according to statistics gathered from the National Retail Federation, people are spending when it comes to celebrating mother. The National Retail Federation states that in 2013, "The Mother's Day spending forecast will jump eleven percent, and consumers will spend an average of $168.94 on mom, while total Mother's Day spending is expected to reach $20.7 billion."
About Catalogs.com
Since 1996, shoppers have universally recognized Catalogs.com as a trusted shopping and catalogs portal, attracting more than one million unique visitors each month. The comprehensive Catalogs.com website, newly launched Catalogs.com for iPad, and Catalogs.com online catalogs feature over 740 major and specialty retailers, and provide shopping access via web, iPad and mobile phone platforms.
Contact
Catalogs.com
Allison Kugel
516-942-0264
www.catalogs.com
www.allisondawnpr.com

Contact